Do you ever have those evenings where everything you plan to make for dinner falls through because you are missing an ingredient? Even I have those days.  Sometimes I don't realize that someone polished off the milk and didn't let me know, or the last of the butter was used to make popcorn the day before, or …
I do my best to roll with things despite the missing ingredient. Sometimes I can find a substitute for  the missing ingredient. Occasionally when I can't find a substitute, I just create a whole new recipe. The latter is how this delicious Roasted Potato and Ham Casserole Recipe came to exist.
I discovered some leftover ham in the freezer and decided to make  scalloped potatoes with ham. However, after I had chopped the onions and started to make the white sauce I realized that I only had vanilla flavored rice milk, not plain. I didn't have time to make more rice milk, so I decided to add the ham to Roasted Potatoes. Then I realized that my recipe for roasted potatoes didn't use a cup of diced onions. I could have frozen the diced onions for another day, but I decided to wing it instead. And that is how new recipes are born!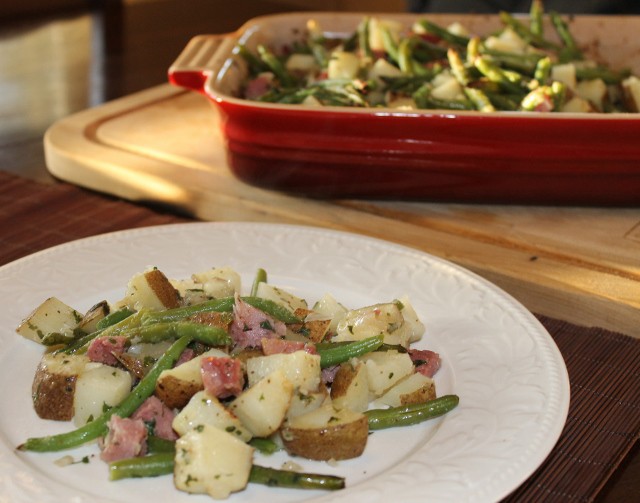 My family really enjoyed the improvised recipe, although my daughter did note that removing the dairy and adding green beans is not considered a "fair trade".

Roasted Potato and Ham Casserole
Ingredients
1½ - 2 pounds of potatoes, coarsely chopped
1 pound frozen green beans
2 cups diced ham
1 cup diced onions
6 - 8 cloves garlic, minced
3 Tablespoon olive oil
1 Tablespoon dried parsley
1 teaspoon seasoned salt (how to make seasoned salt)
½ teaspoon celery seed
¼ teaspoon ground pepper
Directions
Place potatoes, green beans, ham, onions, and garlic in a 13 x 9 baking pan. Drizzle with oil and sprinkle with spices; toss to coat.
Cook at 425 degrees for 25 - 30 minutes or until the potatoes are tender.
Do you "wing it" or do you prefer to follow recipes?
More Ham Recipes
Scalloped Potatoes with Ham and Peas
10 Recipes to Use Up Leftover Ham
Yum