Did you enjoy stamping with potatoes when you were a child? We are sharing how to make handmade potato Easter egg stamps for kids so you can share this fun activity with your kids!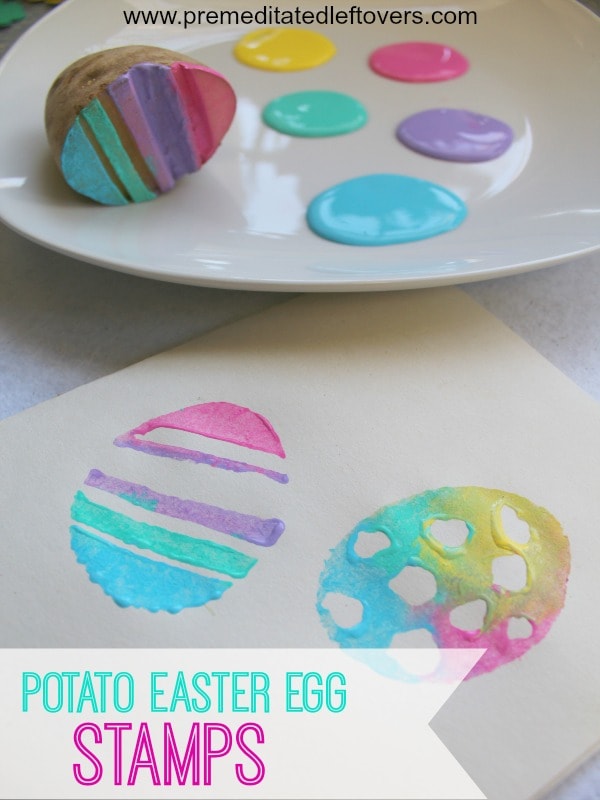 Crafting with stamps is a fun way to keep kids active, and these adorable egg stamps are here just in time for the Easter and spring season. You can make your own using a staple that can be found in just about every kitchen: potatoes! A potato and a little paint are really all you need to make your own Handmade Potato Easter Egg Stamps for Kids, and in no time your kids can stamp their own colorful Easter eggs all over the place. Here is how you can get started making your own.
Handmade Potato Easter Egg Stamps for Kids
Materials:
potatoes
knife
assorted craft paints
plate
towel
craft paper to stamp on
Directions:
1. Begin by cutting the potato in half. Press the open end of the potato onto the towel to help absorb the moisture. You will find that the insides are quite wet and can make the next step slippery and dangerous if you don't dry them.
2. Once the open end of your potato is dry, you can begin cutting your designs into it. Use a knife or pick to make lines, circles, zig zags, and other shapes. BE CAREFUL as the potato can be slippery. Use a careful hand and take your time.
3. Press the open end of the potato to the towel to dry it again, as cutting into it can create additional moisture.
4. You are now ready for stamping.
How to use the Potato Easter Egg Stamps
Press the cut end of the potato into the paint. It is easiest to put the paint on a plate for easy dipping. Remove any excess paint before stamping. (Or, you can use a brush for more detailed painting.)
Then, press the potato stamps to the paper and press firmly. Pull away and see your egg design on the paper. Repeat as much as you want. When you want to use a new color, just rinse the potato under water and it will rinse clean. There is no need to cut a new potato.
See how easy these egg stamps can be? You can try making them with all sorts of designs, and of course, using all sorts of paint colors.

These are great for making Easter and spring décor of all sorts, including greeting cards if you so desire.
Grab a few potatoes and give these potato stamps a try yourself. The kiddos are sure to love them and creating colorful eggs of their own.
If your kids enjoyed this activity, be sure to use our Handmade Potato Bunny Stamps for Kids to make adorable Easter bunnies using potato stamps to start the project.
More Easy Easter Activites:
How to Dye Easter Eggs Naturally
8 Learning Games Using Plastic Easter Eggs
4 Toddler Activities Using Plastic Easter Eggs