This hanging hummingbird suncatcher is a fun craft project for kids.
I love to watch the hummingbirds during the spring and summer. We make our own hummingbird nectar and they come visit us several times a day. These fascinating little birds are definitely a treat to have around. One of the issues with hummingbirds is the season to see them is so short in many parts of the country. If you are in an area that is pretty much hummingbird-free, you may never see one. That's why this Hanging Hummingbird Suncatcher is such a fun project to do with your kids or even make yourself.
Since hummingbird starts with the letter H, this would be a perfect project for a homeschool unit on the letter or as a great way to welcome spring in your region. For younger kids, you may need to draw the hummingbird for them and older kids might enjoy drawing any bird they please.
Hanging Hummingbird Suncatcher Tutorial
Materials Needed:
empty clear plastic milk jug, washed and dried
permanent markers
scissors
utility Knife
hole punch
twine, string or yarn
Directions:
1. Use a utility knife to cut out one panel of a milk jug. This should be done by an adult.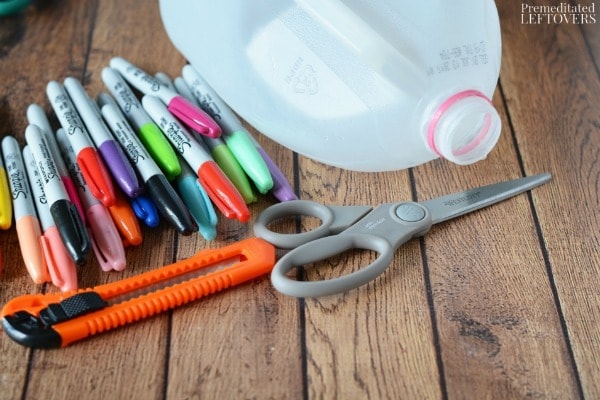 2. With a black permanent marker, draw a hummingbird onto your plastic piece. We used Google clip art images as inspiration for a hummingbird we liked. You can also print out an image of a humming bird and trace it by placing it under your plastic piece. This is the hummingbird clipart we used as our template.
3. Add color to your bird with colored permanent markers. When finished, trace around the bird again with a black marker and add a small area to include a hole for hanging. Add details such as feathers and eye with a black marker as well.
4. Use scissors to cut out your hummingbird and use a hole punch to punch a hole to hang.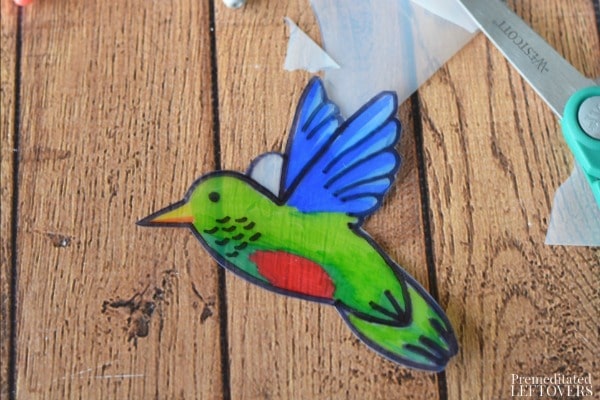 5. Use a piece of twine, fishing line, or string to hang your hummingbird in a window that gets lots of sun.
More Bird Themed Activities for Kids:
DIY Bird House Fairy Garden Craft for Kids
How to Make a Cheerio Bird Feeder
What You Need for Bird Watching with Kids
Backyard Birdwatching Unit Study
Thanks to Kari of Craft Create Cook for sharing her tutorial and pictures with us.