Welcome to another Hearth and Soul Hop, the food carnival for and about food that not only nourishes our bodies, but our souls!
This week I am featuring gluten-free bread recipes from last week's contributors to the Hearth and Soul Hop:
Crusty Coconut flour Bread (Paleo, SCD)/ Real Food Forager
Cranberry Orange Bread / Deals from Ms. Do
Gluten-Free Baking Powder Biscuits / Frugal Farm Wife
Chocolate Chip Banana Nut Muffins / Deals from Ms. Do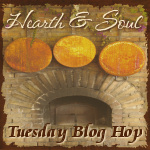 ~ Please link a post that closely fits into the mission. If you are new, read the Hearth and Soul Hop mission statement which includes the rules for linking up. As always, if you have any questions please email me at aleasleftovers(at)gmail(dot)com.
~Please include a link back to one/any of the host sites (through worded link or badge). The Hearth and Soul Hosts include:
April of The 21st Century Housewife
Swathi of Zesty South Indian Kitchen
and me, Alea of Premeditated Leftovers
-Linky will stay open from 1:00 am Tuesday until 11:59 pm Thursday (Eastern time).