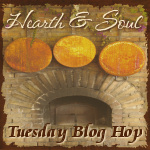 Welcome to another Hearth and Soul Hop, the food carnival for and about food that not only nourishes our bodies, but our souls!
Penny from
Penniless Parenting
 has made the decision to step down as a co-host of the Hearth and Soul Hop. She says, "I really loved being the host of the Hearth and Soul blog hop, and every week had a great time reading the new submissions, getting inspired by all the wonderful, healthy, and creative recipes that showed up. Fortunately and unfortunately, lately I've been very busy- I do a lot of 
foraging
, lead foraging walks in the nearby community, sell gluten free flours, have a writing job, am in the middle of writing a book on foraging, in addition to homeschooling my three kids and making everything we eat from scratch. I've been tumbling into bed at 2 am most nights, realizing that I just didn't manage to make it to even most things on my too long "to do" list, and have been trying to shorten my list of responsibilities so that I can get some free time. It's not working so much, and I've been struggling to find enough time to relax for even a minute or two… Because of that, because of all my other responsibilities, I'm going to need to take a break from hosting the Hearth and Soul blog hop. Perhaps at some point in the future, if things calm down a bit more around here, I might be able to resume as a hostess. But in the meantime, its been a great fun, but it's time to say adios."
My fellow co-hosts and I want to thank Elsa for being a part of the Hearth and Soul Hop. We will miss her as a co-host, but we are glad that she will be continuing to share her delicious recipes with us as a participant here at the Hearth and Soul Hop.
My highlights from visiting last week's contributors to the Hearth and Soul Hop:
Baby Bella bites from Miz Helen's Country Kitchen
Sweet Potato Stew from My Sister's Pantry
Mashed Cauliflower with Garlic & Green Onions from Allergy-Free Vintage Cookery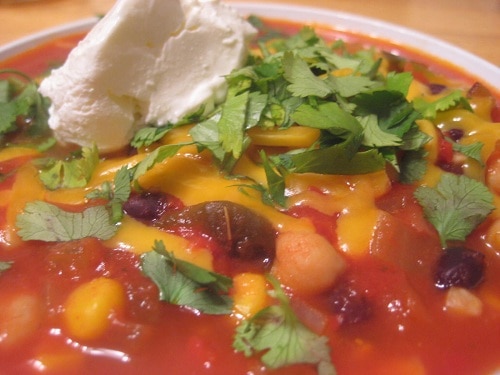 Tortilla Soup from Don't Waste the Crumbs
Provence Chicken with Veggies & Red Quinoa  from Simple Living and Eating
~ Please link a post that closely fits into the mission. If you are new, read the Hearth and Soul Hop mission statement which includes the rules for linking up. As always, if you have any questions please email me at aleasleftovers(at)gmail(dot)com.
~Please include a link back to one/any of the host sites (through worded link or badge). The Hearth and Soul Hosts include:
April of The 21st Century Housewife
Judy of Savoring Today
Swathi of Zesty South Indian Kitchen
and me, Alea of Premeditated Leftovers
-Linky will stay open from 1:00 am Tuesday until 11:59 pm Thursday (Eastern time).