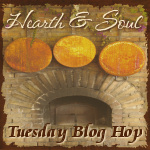 Welcome to another Hearth and Soul Hop, the food carnival for and about food that not only nourishes our bodies, but our souls! I am excited to announce that Elsa of
Elsa Cooks
and Judy of
Savoring Today
will be joining us as co-hosts beginning next week. Elsa and Judy have been a regular contributors, so I am sure many of you already know them, but for those of you who don't here is a little information about them:
Elsa is a wife, mommy, part-time worker/stay-at-home mama, and homeschooler. Other than her family, her passion in life is cooking, and recently, food photography. Her main blog,
Elsa Cooks
, focuses on cooking and baking from scratch. Her second blog,
Elsa's Baby Talk
, focuses on family life. You can connect with  Elsa on
Facebook
,
Twitter
, and
Pintrest
.
Judy is a writer and home cook with a passion for good food and healthy living. She believes great food goes beyond flavor or
nourishment—it fosters relationship, beginning with her own family. She shares her love of food and prize-winning recipes through her blog, 
Savoring Today
, as well as contributing to the Fresh Ink section of her local newspaper. You can connect with Judy on
Facebook
,
Twitter
, and
Pintrest
.
A Short Recap for Participating in the Hearth and Soul Hop:
Recipes should include healthy ingredients and can be old or new recipes or posts. Articles on real food, slow food, foraging, herbal remedies, local food, sustainable food, organics, gardening or any healthy eating information written in a positive and loving light are also welcome.
All the hosts at Hearth and Soul care very deeply about this blog hop, and make an group effort to be sure that every post is commented on. We also Pin and Tweet many of the entries. You don't find this with every blog hop, and in exchange for our efforts, we respectfully request that you include a link in the actual blog post you are sharing back to one of the hosts, either by worded link or using our badge. It is not enough to link using a communal blog party page. People rarely click on these links and it is unlikely they will find the Hearth and Soul hop using these sort of pages.
~
Please link a post that closely fits into
the mission
. If you are new, read the
Hearth and Soul Hop mission statement
which includes the rules for linking up. As always, if you have any questions please email me at aleasleftovers(at)sbcglobal(dot)net.
~Please include a link back to one/any of the host sites (through worded link or badge). The Hearth and Soul Hosts include:
-Linky will stay open from 1:00 am Tuesday to 11:59 pm Thursday (Eastern time).