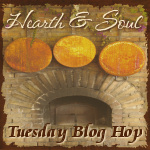 Welcome to another Hearth and Soul Hop, the food carnival for and about food that not only nourishes our bodies, but our souls!  You can find the Hearth and Soul Hosts sharing links to entries on the Hearth and Soul Hop Facebook Page, Pinterest Boards, and on Twitter at @HearthNSoulHop.
My co-host Penny, from Penniless Parenting, is taking this week off to enjoy her new baby girl. Please join me on congratulating Penny on the newest addition to her family!
This will be the last week that  Melynda, of Mom's Sunday Café, will participate in the Hearth and Soul Hop as a co-host. Her goal is to return  to writing and preserving not only the foods of her childhood and family of origin, but the stories surrounding her family table. We look forward to Melynda continuing to participate in the Hop as a food and story contributor.
My highlights from visiting last week's contributors to the Hearth and Soul Hop:
Cranberry Turkey Tamales – Delicious and creative way to use up leftovers!
Gumbo Soup – GAPS friendly!
Beef Borscht – A slow-cooker recipe!
Beef Stew in a Bread Bowl – What a hearty meal!
Cacciucco (Little Bear's Fish Soup) – My 4 year old and I love Little Bear!
~ Please link a post that closely fits into the mission. If you are new, read the Hearth and Soul Hop mission statement which includes the rules for linking up. As always, if you have any questions please email me at aleasleftovers(at)sbcglobal(dot)net.
~Please include a link back to one/any of the host sites (through worded link or badge). The Hearth and Soul Hosts include:
April of The 21st Century Housewife
Melynda of Mom's Sunday Café
Penny of Penniless Parenting
Swathi of Zesty South Indian Kitchen
and me, Alea of Premeditated Leftovers
-Linky will stay open from 1:00 am Tuesday to 11:59 pm Thursday (Eastern time).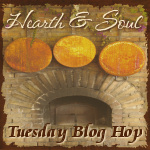 This is a Blog Hop!
---
You are next…
Click here to enter
This list will close in 341 days, 1 hrs, 52 min (12/30/2012 1:59 AM CST)