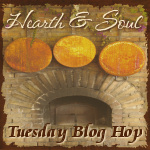 Welcome to another Hearth and Soul Hop, the food carnival for and about food that not only nourishes our bodies, but our souls!  You can find the Hearth and Soul Hosts sharing links to entries on the Hearth and Soul Hop
Facebook Page
,
Pinterest Boards
, and on Twitter at
@HearthNSoulHop
.
I was on vacation last week, so I didn't get to visit as many entries as I usually do. I did make a little time to visit some of the entries and here are My highlights:
Creole Oven Fries -Taters ARE greater!
Salmon Florentine – This is lovely and delicious!
Bean Salad with Mint Dressing – Fascinating combination of flavors!
Roasted Asparagus and Orange Salad – Lovely and frugal as both asparagus and oranges are on sale now.
Coconut, Lime and Quinoa Fish Stew – My Little Bear just loves fish stew!
"Cream" of Carmelized Onions and Cauliflower Soup – Easy, dairy-free, and only a few ingredients. Did I mention it is easy? 🙂
~
Please link a post that closely fits into
the mission
. If you are new, read the
Hearth and Soul Hop mission statement
which includes the rules for linking up. As always, if you have any questions please email me at aleasleftovers(at)sbcglobal(dot)net.
~Please include a link back to one/any of the host sites (through worded link or badge). The Hearth and Soul Hosts include:
-Linky will stay open from 1:00 am Tuesday to 11:59 pm Thursday (Eastern time).