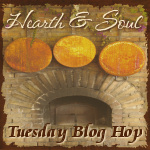 Welcome to another Hearth and Soul Hop, the food carnival for and about food that not only nourishes our bodies, but our souls! You can find the Hearth and Soul Hosts sharing links to entries on the Hearth and Soul Hop Facebook Page, Pinterest Boards, and on Twitter at @HearthNSoulHop.
My highlights from visiting last week's contributors to the Hearth and Soul Hop:
Jen's Awesome Spinach Artichoke Dip – This dip really does look awesome!
The Bestest Creamy Pumpkin Soup – It really does look good, I think Mike and Molly are telling the truth.

Cauliflower and Lentil Soup – Vicky has combined several of my favorite foods and created a lovely, creamy soup.
Roasted Chicken and Potato Nicoise – Flavored with tomatoes, garlic, capers and olives – Not your average chicken dinner!
Garlic Bath or Mojo de Ajo – aka: liquid gold or garlic gravy. Whatever you call it, it is a great way to use up a lot of garlic before it spoils!
Samoa French Toast and Molten Lava French Toast – Richa totally raised the bar on French Toast with two amazing recipes!
I look forward to seeing what you share this week!
~ Please link a post that closely fits into the mission. If you are new, read the Hearth and Soul Hop mission statement which includes the rules for linking up. As always, if you have any questions please email me at aleasleftovers(at)sbcglobal(dot)net.
~Please include a link back to one/any of the host sites (through worded link or badge). The Hearth and Soul Hosts include:
April of The 21st Century Housewife
Penny of Penniless Parenting
Swathi of Zesty South Indian Kitchen
and me, Alea of Premeditated Leftovers
-Linky will stay open from 1:00 am Tuesday to 11:59 pm Thursday (Eastern time).