Welcome to another Hearth and Soul Hop! I am joining my co-hosts, Alex of A Moderate Life, April of The 21st Century Housewife, Jason of Alternative Health and Nutrition, Kankana of Sunshine and Smile,  Melynda of Mom's Sunday Café, and Swathi of Zesty South Indian Kitchen in hosting a food carnival for and about food that not only nourishes our bodies, but our souls!
If you are new, read the Hearth and Soul Hop mission statement page which includes the rules for linking up. As always, if you have any questions please email me at aleasleftovers(at)sbcglobal(dot)net.
My highlights from visiting last week's contributors to the Hearth and Soul Hop:
Green Beans with Toasted Breadcrumbs
Corndog Muffins (I will use my gluten-free cornbread recipe when I make these).
Fresh Fruit Smoothies
I also share some of my favorite contributions to the Hearth and Soul Hop on my Facebook page, on  Twitter, and on Pinterest through out the week.
This week I am submitting my Candied Flowers Recipe: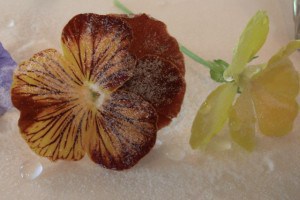 Please link a recipe using the linky tools below and your link will be shared over many different blogs with many different blog audiences. Recipes should include healthy ingredients and can be old or new recipes or posts. Articles on real food, slow food, foraging, herbal remedies, local food, sustainable food, organics, gardening or any healthy eating information written in a positive and loving light are also welcome.
–One link per week, please.
–Must include a link back to one/any of the host sites (through worded link or badge) in individual post, not on sidebar…although we love having links on your page, as well.
–Please link a post that closely fits into the mission.
-Linky will stay open from 10 pm Monday to 11:59 pm Thursday (Eastern time).
Please share the hearth and soul hop badge listed below to promote the Blog Hop. You can also visit us at the Hearth and Soul Hop Hub.
Don't forget to leave a comment after you link up!
---
This linky list is now closed.