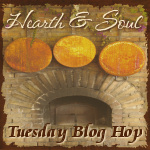 Welcome to another Hearth and Soul Hop! I am joining my co-hosts April of The 21st Century Housewife, Jason of Alternative Health and Nutrition,  Melynda of Mom's Sunday Café, and Swathi of Zesty South Indian Kitchen in hosting a food carnival for and about food that not only nourishes our bodies, but our souls!
We have some exciting changes to share. First, we have a Facebook Page dedicated to the Hearth and Soul Hop. We also have Hearth and Soul Pinterest Boards and a Hearth and Soul Twitter account: @HearthNSoulHop. We experimented with these accounts last week and will be using them regularly beginning this week to spread the Hearth and Soul goodness.
This will be Jason's last week of co-hosting on the Hearth and Soul Hop. Jason is the CEO of an online sales company, J&L Health. He sells natural health products to people all over the United States and several countries. I asked Jason to share a little about himself and  he shared his motivation for the direction he has taken:
"Modern medicine has done so many wonderful things in peoples lives and will continue to do so. However there are some aspects of it that have grabbed my attention as well as many other people. I became interested in natural medicine when reading the small, tightly packed print listing the side effects of very a popular OTC (over the counter) product, many of which were more serious than the original problem. I became passionate about it when a good friend of mine received 3 prescriptions….one for his condition, and two for problems brought on by his first prescription! I decided to make healthy choices in my medicine cabinet, just as I had at the dinner table or any other area of my life.

When working to improve your health you should always address the cause of your problem, not the symptom. Learn more about improving your health naturally at www.thewisealternative.com".
If you are new, read the Hearth and Soul Hop mission statement which includes the rules for linking up. As always, if you have any questions please email me at aleasleftovers(at)sbcglobal(dot)net.
My highlights from visiting last week's contributors to the Hearth and Soul Hop:
Forging Wild Porcini Mushrooms
Peaches are in season, so I have to share these delicious ways to prepare them:
Quinoa and Black Bean bowl with Peach Salsa
You can see some of my other favorite contributions to the Hearth and Soul Hop on my Facebook page on my Pinterest boards and on Twitter through out the week.
Please link a recipe using the linky tools below. Recipes should include healthy ingredients and can be old or new recipes or posts. Articles on real food, slow food, foraging, herbal remedies, local food, sustainable food, organics, gardening or any healthy eating information written in a positive and loving light are also welcome.
–Please include a link back to one/any of the host sites (through worded link or badge) in individual post, not on sidebar…although we love having links on your page, as well.
–Please link a post that closely fits into the mission.
-Linky will stay open from 10 pm Monday to 11:59 pm Thursday (Eastern time).
Please share the hearth and soul hop badge listed below to promote the Blog Hop.