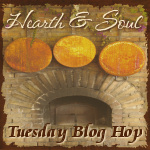 Welcome to another Hearth and Soul Hop, the food carnival for and about food that not only nourishes our bodies, but our souls!
I wanted to let you know that next week we will start opening the Hearth and Soul Hop a little late. I feel incredibly blessed to be able to co-host with wonderful bloggers in varying time zones and have people contribute to our Hop from all around the world. Because of this we decided that beginning next week we will open the Hop on Tuesday at 4:00 a.m. EST (That will be 1:00 am PST or 8:00 am GMT) to make it easier for some of our co-hosts who are either asleep when the hop goes live or are trying to bathe children and put them to bed. In fact, I will be posting late tonight because I am dealing with a four year old who is "too 4 to be 5" and is demonstrating it in all manner of ways. 🙂
You can find the Hearth and Soul Hosts sharing links to entries at:
Facebook Page dedicated to the Hearth and Soul Hop
Hearth and Soul Pinterest Boards
Hearth and Soul Twitter account: @HearthNSoulHop
My highlights from visiting last week's contributors to the Hearth and Soul Hop:
Black Beans and Rice Chili
How to Make Your Own Peanut Butter
Chunky Tomato Soup
Mexican Stuffed Peppers
Black Bean Burgers GF SCD
Berry Lemony Wonder Bars
~ Please link a post that closely fits into the mission. If you are new, read the Hearth and Soul Hop mission statement which includes the rules for linking up. As always, if you have any questions please email me at aleasleftovers(at)sbcglobal(dot)net.
~Please include a link back to one/any of the host sites (through worded link or badge). The Hearth and Soul Hosts include:
April of The 21st Century Housewife
Melynda of Mom's Sunday Café
Penny of Penniless Parenting
Swathi of Zesty South Indian Kitchen
and me, Alea of Premeditated Leftovers
-Linky will stay open from 10 pm Monday to 11:59 pm Thursday (Eastern time).