My kids have long been the inspiration for my recipes. When they were really young I was just trying to find ways to get them to try new foods and flavors. Then I was trying to find new ways to use their favorite foods.
When we discovered that my oldest son was lactose intolerant I started experimenting with non-dairy liquids in my recipes. Then we discovered that my daughter and youngest son had to remove gluten from their diet and I worked to find ways to make gluten-free versions of their favorite recipes.
Creating delicious gluten-free, dairy-free recipes was, and still is, a team effort. My kids give me a lot of input. First we work on flavor and finding ways to disguise the taste of gluten-free flours in a new recipe. Once we are all satisfied with the flavor, I work on creating the right mixture of flours to create a pleasing texture. After we have a basic recipe down pat, we start experimenting with new flavors.
Sometimes I sit with my kids and brainstorm ideas for how we can adapt old recipes to create new favorites. Usually our recipe ideas are more spontaneous.
After making gluten-free vanilla scones at the request of my youngest son, we were all sitting around the table enjoying scones and tea. My daughter was drinking chai tea and decided to dunk her vanilla scone in her tea. She said it was a delicious combination and said that I should try replacing the milk in my scone recipe with chai tea. I thought that her idea was brilliant, especially since the tea would naturally be dairy-free and the spices in the tea would cover the taste of the gluten-free flours.
I steeped 4 chai tea bags in 1/2 cup of hot water to create a very flavorful addition to my scone recipe.
My youngest son's favorite flavor is vanilla, so he insisted on a vanilla glaze for the scones.
My youngest son contributes fewer ideas than his older siblings, but he is always ready to lend a hand while I am cooking.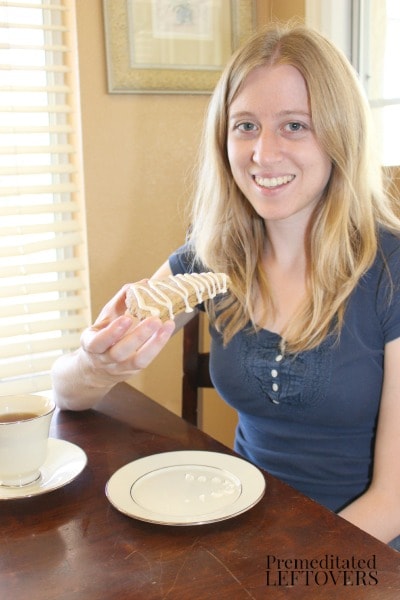 My kids and I sat down to enjoy the chai scones. After trying the gluten-free chai scones my daughter said they reminded her a little of gingerbread and said we should make gingerbread scones this winter. My youngest son said we should make them to celebrate the first snow. So we have a date and a new recipe idea. And that is how recipes are born in my kitchen.
Bon Appetite's Out of the Kitchen Series focuses on how face-to-face communication creates the spark that leads to innovation. Chatting with my kids both while I am cooking and while we are eating has lead to many delicious new recipes. It has also shifted the focus off of their food intolerances. Instead of focusing on what they can't eat, they are thinking about the creative ways we can combine the foods that they are able to enjoy.
Gluten-Free Chai Scones
Ingredients:
1/2 cup water
4 Chai Tea Bags
1 cup rice flour, plus extra for rolling dough out
3/4 cup tapioca flour
1/4 cup + 1 tablespoon potato starch
1 teaspoon xathan gum
1/2 cup sugar
1 teaspoon baking soda
1/2 teaspoon salt
6 tablespoons butter or dairy-free margarine, cut up
1 egg, beaten
1 teaspoon gluten-free vanilla
Vanilla Glaze Ingredients:
1 – 2 tablespoons vanilla almond milk (or milk)
2 cups powdered sugar
2 teaspoons vanilla
pinch of salt
Directions:
Place tea bags in boiling water. Allow to steep for 5 minutes. Squeeze the water from the tea bags.
Preheat the oven to 425 degrees.
Combine the dry ingredients in a large bowl.
Cut in butter with a pastry blender or 2 cross cutting forks.
Add the egg, tea, and vanilla to the dry mixture and stir until the liquids are completely incorporated.
Divide the batter in half and form two 1/2 inch thick circles on an ungreased baking sheet. The dough is very sticky, so you will want to use some rice flour as you roll it out. Then use a pizza cutter to cut each circle into 8 wedges, but do not separate the dough.
Bake for 15 – 20 minutes or until the scones begin to brown. Cool on a wire rack.
Blend the vanilla glaze ingredients together until smooth. Use a whisk to remove any lumps.
Drizzle the glaze over the scones.
How do the conversations in your kitchen influence the recipes you make?
Also, check out BonAppetit.com's "OUT OF THE KITCHEN," an exploration of the coolest food artisans in America, from spice blenders to knife makers to cider brewers. See how they mastered their crafts—and learn how to apply their knowledge at home.
This is a sponsored conversation written by me on behalf of Bon Appetit. The opinions and text are all mine.