This bacon ranch chopped salad is an easy make-ahead salad recipe. Top it with roasted root vegetables if you want a more filling meal.

"I like the stems too".
My husband was cutting up broccoli for my daughter, who was 2 years old at the time when my daughter first said that. He was just putting the florets on her plate and she told him that she liked the stems too. He still quotes her every time he cuts broccoli because he thought it was so darn cute. It was cute, but broccoli stems are also really delicious.
Perhaps it is because I grew up in the country and I know how much work is involved in growing vegetables or maybe it is because I took several years of horticulture and learned which parts of vegetable plants are edible, but I believe in consuming as much of our produce as possible. That means the leaves and stems too.
Or it might be that I'm lazy and frugal.
I tell everyone that I don't peel vegetables because there are nutrients in the skin of vegetables. But let's face it, it's also a lot less work to skip the peeling process and just wash, dry, and chop vegetables! Once you have coated the vegetables with oil and  Hidden Valley® Original Ranch® Salad Dressing & Seasoning Mix nobody will notice that you didn't take the time to peel the veggies!
And buying whole vegetables with the stems and leaves still attached is less expensive per pound than buying a part of the vegetable. Not only is it less expensive, but then you can use those stems and leaves in recipes. More food for less money; what's not to love?!?
Hidden Valley® has always encouraged families to love their veggies, but they are now addressing the issue of food waste with their #TasteNotWaste campaign to help inspire love for previously "unlovable" produce because  imperfect vegetables can be perfectly tasty.
Hidden Valley® is committed to helping change the perception of what "perfect" veggies look like so it's releasing limited edition bottles of Hidden Valley® Original Ranch®.  They changed its iconic label to one featuring less than perfect produce; the proceeds from which will benefit Great Nations Eat©.
Ranch Roasted Root Vegetables Recipe
Save the stems and leaves from the beets, carrots, parsnips, and turnips to use in the Bacon Ranch Chopped Salad (recipe below).
Ingredients:
4 – 5 medium red potatoes
3 beets
3 carrots
2 parsnips
1 large turnip
1 medium onion
3 tablespoons olive oil
1 package Hidden Valley® Original Ranch® Salad Dressing & Seasoning Mix
Directions:
Preheat the oven to 450 degrees.
Wash and dry the vegetables and cut them into bite size pieces. Peel the outer skin off the onion and cut it into large chunks.
Arrange the vegetables on a large baking sheet. Drizzle the oil over the vegetables. Toss to coat. Sprinkle the Hidden Valley Original Ranch Salad Dressing & Seasoning Mix over the vegetables, then toss to coat.
Place the baking sheet in the oven and bake for 2o minutes or until fork tender and browned on the edges.
On the first night, I roast the roots of the vegetables and place the leaves and stems in the refrigerator to use in a salad the next night. If there are any leftover Ranch Roasted Root Vegetables, I reheat them and serve them on top of the Bacon Ranch Chopped Salad. It may sound odd, but it is a delicious combination.
Bacon Ranch Chopped Salad Recipe
One of the great things about a chopped salad is you can include all sorts of leaves and stems without raising any eyebrows. I don't just use radishes and carrots, I chop up their leaves and add them too. When I add spinach, I thinly slice the stems and include them as well.
Ingredients:
6 pieces bacon
4 cups kale, cut into thin strips
2 cups beet leaves, cut into thin strips
4 radishes, julienne the roots and thinly slice the leaves
2 carrots, julienne the roots and thinly slice the leaves
2 stalks celery, thinly slice stalk and leaves
2 – 3 stalks Swiss chard, thinly slice the stalk and leaves
2 green onions, thinly sliced including the green tops
1/2 cup Hidden Valley® Original Ranch®
Optional: parsnip leaves, turnip leaves, spinach leaves
Directions:
Cook the bacon. While the bacon is cooking, chop the vegetables using as much of them as you can.
Add the chopped vegetables to a large bowl. Add the Hidden Valley® Original Ranch®. Toss to coat.
Drain the fat from the bacon and crumble most of it over the salad. Toss to blend. Crumble the last of the bacon over the salad.
If you wish, add the Ranch Roasted Root Vegetables to your salad once it is plated.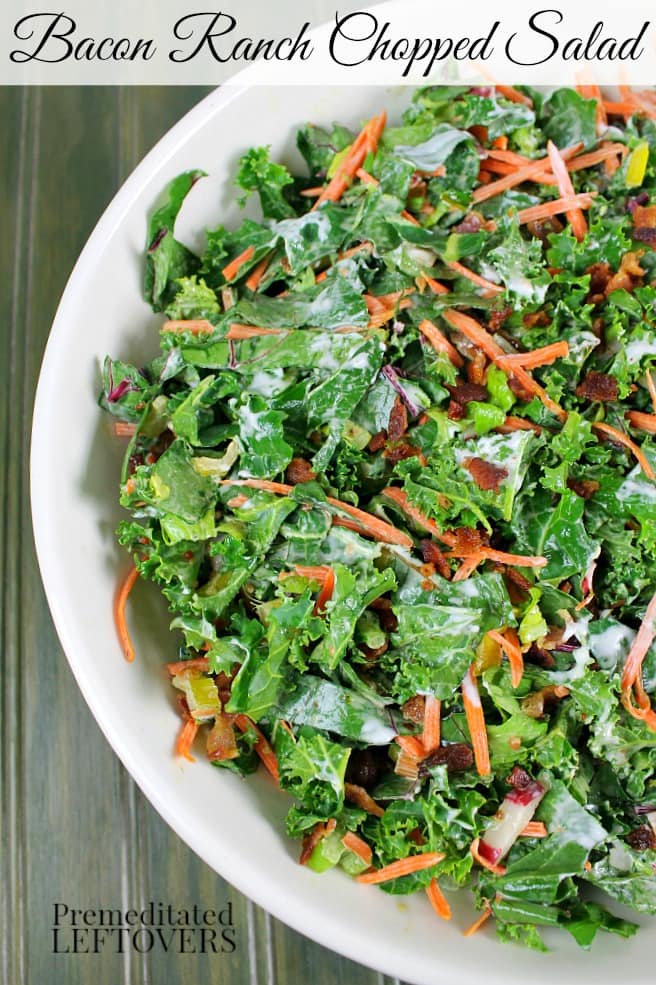 You can find more ways to reduce food waste by following Hidden Valley on Facebook and find some delicious recipes using vegetables (including bruised and misshapen vegetables, leaves, and stems) by following Hidden Valley on Pinterest.
More Salad Recipes
Strawberry Spinach Salad with Raspberry Vinaigrette
Chicken and Mango Salad with Cilantro Lime Dressing
This is a sponsored conversation written by me on behalf of Hidden Valley. The opinions, text, and recipes are all mine.