The holidays are always hectic, but they are going to be even crazier for me as I prepare to go on a book tour in January. I just got home today from a trip pertaining to my book. My travel is seriously cutting into my holiday prep. This means I will need to employ time saving hacks to prepare for my guests. Below I am sharing some of my kitchen tips using paper towels.
Holiday Kitchen Hacks Using Paper Towels
Viva Vantage Paper Towels are the perfect companion for taking on tough messes. I appreciate the Choose-A-Sheet rolls, because I always have the right size towel for the job. However, I use Viva Paper Towels for more than just cleaning up. I use them in a variety of ways to simplify prepping for the holidays and guests.
Use a paper towel to catch drips from your oil bottle. While I try to do most of the kitchen prep and cooking before I put on my church clothes, some of it must be done at the last minute. I try to minimize potential clothing disasters where ever I can. One paper towel hack I use prevents oil messes: Fold a paper towel in half, length wise. Then wrap it around your bottle of oil. Secure the paper towel in place with a rubber band. Now the paper towel will catch any drips and reduce oil messes on counters, hands, and clothing.
Use a paper towel to keep your cutting board from slipping. Moisten a paper towel and wring out any excess water. Spread the moist paper towel out on the kitchen counter. Place a cutting board on top of the paper towel. This will help prevent your cutting board from sliding around on the counter.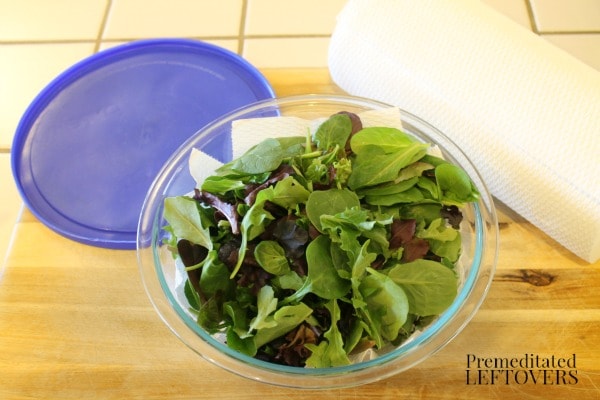 Keep salad greens from wilting with a paper towel. I like to assemble salads ahead of time, so I am not doing it at the last minute. Use this tip to keep your salad greens fresh: Line a bowl with a paper towel. I like to take 2 sheets from a Choose-A-Sheet roll and place them in the bowl in the shape of an "x". Place clean and dry salad greens on top of the paper towels in the bowl. Cover the bowl. This allows you to prep a salad ahead of time without worrying about the salad wilting. If you notice condensation forming on the lid, place another sheet on top of the salad.
Quickly soften brown sugar with this paper towel trick: Place brown sugar in a microwave safe dish. Cover with a moist paper towel. Microwave for 20 seconds. Break up clods with a fork. If the sugar is still hard. Recover with moist paper towel and microwave for another 20 seconds.
Keep cut vegetables from drying out with a moist paper towels. I like to prep my vegetables, like carrots and celery, ahead of time. You can keep them from drying out by placing a moistened paper towel in the container with the cut vegetables. They don't need to be completely covered, just one moistened sheet from the Choose-A-Sheet rolls is enough to keep them looking fresh.
Smooth frosting on a cake with this paper towel trick. (This works best with Viva Paper Towels that do not have a texture on them). Frost your cake with a crumb layer, then chill. Add your top layer of frosting and chill for another 30-50 minutes. Once the frosting is cold, but not hard, lay a paper towel right on top of the frosting. With your hands moving, but keeping the paper towel still, smooth out the edges, top, and sides of the cake. If the frosting starts sticking to the paper towel, chill the cake for another 10-20 minutes. You may have to repeat the process a couple times to get a completely smooth cake.
Clean a waffle iron with a wet paper towel. My husband always makes waffles on Christmas morning. The last thing I want to do is spend tons of time cleaning up for breakfast, so I can start preparing for Christmas dinner. I use this paper towel hack to quickly clean the waffle iron: After you are done making waffles, unplug it. Moisten a paper towel. Then place it on the still hot waffle iron. Close the lid and the steam will clean the waffle iron. After a minute or two, open the waffle lid and brush out any remaining crumbs with the paper towel.
Degrease more than just bacon with paper towels. Did an appetizer or pizza come out greasier than you expected? Blot it with a paper towel. The paper towel will absorb the grease. To remove oil from the top of soup, lay a paper towel over the surface of the soup and pull it across the surface to absorb the fat. Repeat if needed.
Keep cast-iron skillets from rusting. On more than one occasion, I have pulled a cast iron pan out of the oven and discovered it had rust on it. Then I had to scrub off the rust before I could use it. I started using this paper towel hack to reduce rust on my cast iron pans" After you wash and dry a cast-iron skillet, place a paper towel in the inside of the skillet. It will absorb any excess moisture and prevent it from rusting.
Make crystal and other glassware sparkle! All you need is vinegar and paper towels to remove water spots from crystal glasses and bowls. Dip the paper towel into vinegar and then dab the spots. Scrub the spot with the paper towel. Then dry immediately.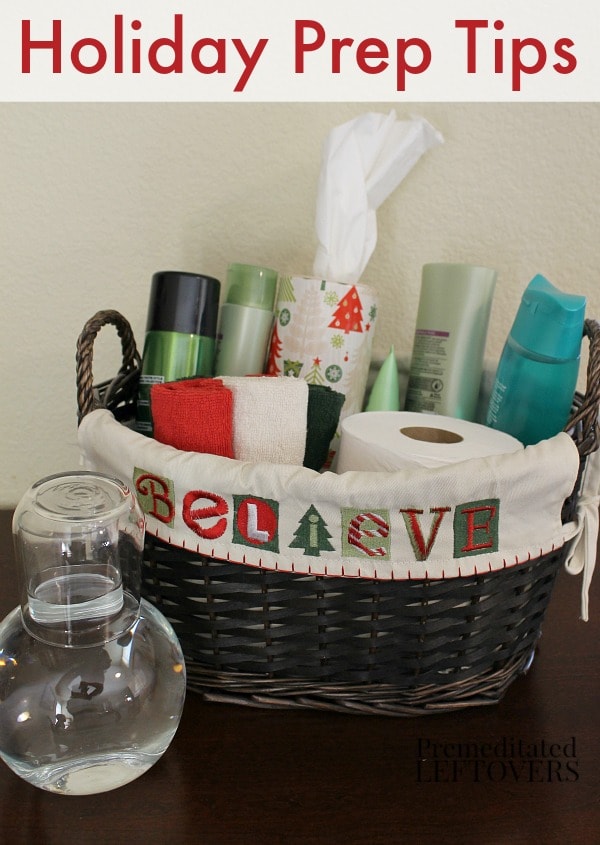 I like to provide my guests with a carafe of water with a glass for their room. We have hard water, so I always use a paper towel and vinegar to remove the water spots from the carafe and glass. I also gather other things my guests might need in a basket: soap, shampoo, Kleenex® Perfect Fit Holiday Canister, lotion, hair spray, extra wash cloths, and an extra roll of toilet paper.
While I have been stuck on long flights or waiting in airports I have been making lists of items I need for the holidays. This will allow me to stock up and know that I won't run out of the essentials while entertaining house guests. Viva, Kleenex, Scott and Cottonelle have your household needs covered this holiday season; you can find these brands at Walmart. If you haven't already, download the Ibotta App on your phone to save even more on your household needs.
With the Ibotta app, get:
The holidays are a busy time, especially for moms preparing their homes for kids on winter break and out-of-town guests. To ensure preparation goes off smoothly, use the holiday kitchen hacks and pick up Viva, Kleenex, Scott, and Cottonelle products at Walmart and save even more on these items by using the Ibotta app!
I was selected for this opportunity as a member of Clever Girls and the content and opinions expressed here are all my own.