I have been teaching a Quick and Easy Meal Prep Techniques class at the Pinners Conferences. I have had people ask for a list of the recipes I make, so I have created a list of recipes in the order I make them.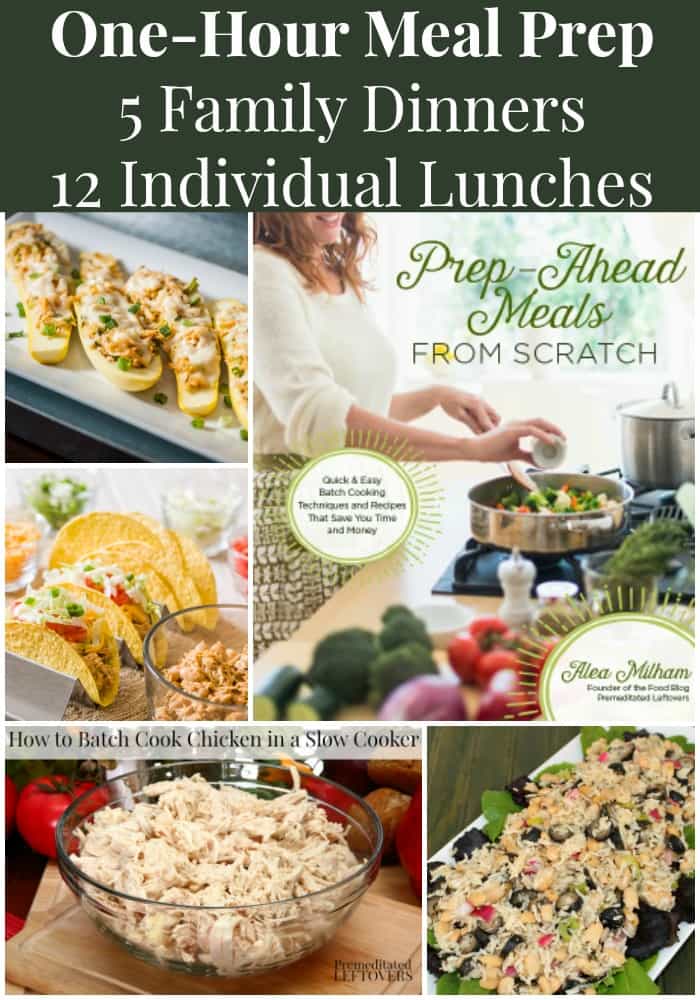 In the Quick and Easy Meal Prep Techniques class, I share how to make 5 family dinners in an hour based on recipes from my cookbook and 12 individual lunches using my batch grilling technique and salad dressing recipes from my cookbook. For those of you who do not live close to a Pinners Conference, I will be doing a LIVE Cooking Class on my Facebook page on Sunday, November 5th at 8 pm PT.
Below is the list of recipes that I use from my cookbook Prep-Ahead Meals from Scratch in my One-Hour Meal Prep Session. I also list the page numbers and any variations to the recipes, so you can easily replicate this one-hour batch cooking session in your own kitchen.
One-Hour Meal Prep Session
In advance of the session, I batch cook 4 pounds of chicken in either a slow cooker (page 12) or a pressure cooker (page 13) and shred the chicken.
The first thing I do is Preheat the broiler on my oven.
Then I start by cooking 3 cups of white Basmati rice in 4 1/2 cups of water in a pressure cooker (page 117) or Instant Pot (reduce water to 3 cups, use manual mode and follow pressure cooker directions on page 117).
Batch Broiling the Chicken
Then I take 3 pounds of raw boneless, skinless chicken thighs or breasts and broil them using 3 different dressings as marinades. To batch broil chicken with different seasonings, I create foil dividers, so I can use different marinades on the chicken. I make 3 mini-trays by taking a piece of foil and rolling it up on the sides. Then I place the trays on a large cookie sheet and place the chicken into the trays. Then I coat the meat in each "tray" with a different dressing:
In my class, I used Greek dressing, Asian dressing, and Italian dressing. You can find them all in my cookbook Prep-Ahead Meals from Scratch:
Greek Dressing (page 124) Make a double batch so you also use it on the Mediterranean Beans and Rice
Asian Dressing (page 19)
Italian Dressing (page 186)
Prepping the Dinners
While the chicken is broiling, I turn to the already cooked and shredded chicken and make the foundation for the next 3 recipes.
White Bean and Chicken Ranch Tacos (page 30)
Chipotle Pulled Chicken Tacos (page 49) I substitute chicken for the pork in this recipe.
Cajun Pulled Chicken Wraps (page 70) I substitute chicken for pork in this recipe too.
Time to flip the chicken that is broiling over and pour some dressing over the other side. Put the chicken back in the oven to finish broiling.
About this time the rice is done cooking, so I release any remaining steam. Then I use some of the rice to make the next 2 recipes:
Buffalo Ranch Chicken (page 15) You can serve it on buns, in tortillas, or in a lettuce wrap if you don't want to cook it in squash like I do.
Mediterranean Beans and Rice (page 124)
These 5 meals are ready for the refrigerator. Now all you have to do is pull one out each evening, reheat and serve them for dinner. You can add a salad or quickly broiled vegetables as a side.
Assembling the Lunches
The chicken should be done broiling at this time. Take 12 rectangular lunch containers and place 1/2 cup of rice in each one. Then place a piece of chicken on each one. Drizzle a little dressing over them being careful to match the right dressing to the right cooked chicken. Label the containers unless you like being surprised at lunchtime. These are ready for the refrigerator or freezer. Just add some sturdy greens to the chicken and rice before you pack the container for lunch.
Leftovers from the Batch Cooking Session
After this session, you may have leftover shredded chicken and cooked rice. Place them in freezer-safe containers, label them and freeze them. One night when you have nothing ready for dinner, you can surprise your family (and maybe even yourself) by pulling them from the freezer and quickly creating a meal.
I will be doing a live cooking class on my Facebook page on Sunday, November 5th at 7 pm ET / 4 pm PT where you can see this happen in real time. Join my newsletter to be notified of more video classes, meal plans, recipes, and prep-ahead tips.