Peanut butter fudge is one of our favorite candies, but as much as we enjoy it, we have a friend who declares it her absolute favoritist candy EVER. Before I visit her, she asks if I will be bringing her some peanut butter fudge…and the correct answer is "Yes, of course!" I keep trying to convince her she can make it herself, but she, like many people, has a fear of any recipe that involves a candy thermometer. Seriously, it is a very easy recipe and you can pick up a
Candy Thermometer
for several dollars.
Kitchen Tip: Spray or rub your measuring cup with oil before measuring peanut butter. This makes it much easier to remove the peanut butter when adding it to your recipe.
No spatula needed; the peanut butter just slides out.
You can easily make this recipe dairy-free by using almond milk instead of milk. The peanuts will cover the flavor of the almond milk.

Peanut Butter Fudge
Ingredients
4 cups sugar
1⅓ cups milk (you can use almond milk to make this dairy free)
2 cups peanut butter (creamy or crunchy)
2 teaspoons vanilla
1 7oz. jar marshmallow cream
Directions
In a large pot, combine sugar and milk. Bring mixture to a boil, stirring regularly. Continue to stir until the mixture reaches 234 degrees (soft ball stage) on a candy thermometer.
Remove from heat , stir in peanut butter and vanilla, then add marshmallow cream.
Pour fudge into a greased 13 x 9 pan and place in the refrigerator until cool and firm.
Once firm, you may cut the fudge into squares.
Notes
I place the fudge in the refrigerator so it will cool and firm up faster. It takes about 2 hours in the refrigerator and 5 - 6 if left out to cool.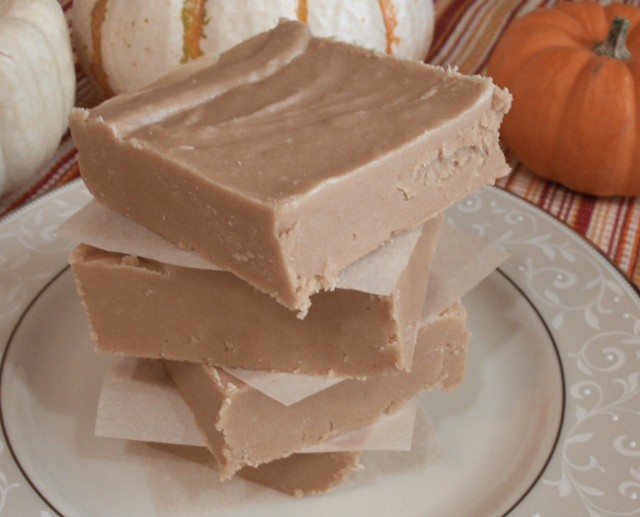 More Homemade Candy Recipes:
Pumpkin Pie Fudge
Easy Homemade Fudge
Divinity
Traditional Toffee
This post is linked to Kitchen Tip Tuesday.