Are you wondering what to do with leftover ham? Here are some of my favorite leftover ham recipes.
I usually serve a ham on Christmas eve. We go to a candlelight service and then come home for dinner. The ham is easy to serve shortly after we arrive home since it is precooked and I can keep it warm in a large slow cooker. But even small hams leave us with leftovers. I thought I would share some of the ways that I will be using up the leftover ham.
What to Do with Leftover Ham
Besides living on sandwiches for days, there are lots of ways to use up leftover ham. But first, if you are not going to be able to use up all of the leftover ham within 5 days, then freeze it so it doesn't go bad.
How to Freeze Cooked Ham
Ham freezes well. I stretch the leftovers over several weeks, by freezing the ham in usable portions and then thawing it as needed. Don't freeze your ham in one large chunk. Instead, dice it, cube it, or cut it into thin slivers – whatever your favorite ham recipes call for it. Then place the cut ham in a freezable plastic bag or a freezer-safe container. The ham will keep in the freezer for up to 3 months.
How to Freeze a Ham Bone
The ham bone can be used to add flavor to soups, so don't toss it out once you remove the meat from the bone. If you don't have time to make soup or cook beans within a few days of serving the ham, wrap the bone in plastic or butcher paper, then put it inside a freezer bag, and place it in the freezer to use at a later time. The ham bone will keep for 3 – 4 months in the freezer. You will find some recipes using a ham bone below the leftover ham recipes.
Leftover Ham Recipes
Here are delicious ideas for what to make with leftover ham!
Roasted Potato and Ham Casserole
Mini Frittatas with Ham and Cheese
Scalloped Potatoes with Ham and Peas
Scalloped Sweet Potatoes with Ham
Recipes Using Ham from Prep-Ahead Meals from Scratch:
If you have my cookbook, Prep-Ahead Meals from Scratch, you can use leftover ham to make these recipes from the cookbook:
Skillet Mac & Cheese with Ham and Broccoli p. 50
Skillet Scalloped Potatoes with Ham and Peas p. 54
White Bean and Ham Soup with Spinach p.60

Potato, Ham, and Corn Chowder p. 63

Ham and Cauliflower Casserole p. 64

Ham and Spinach Waffle Quesadillas p. 72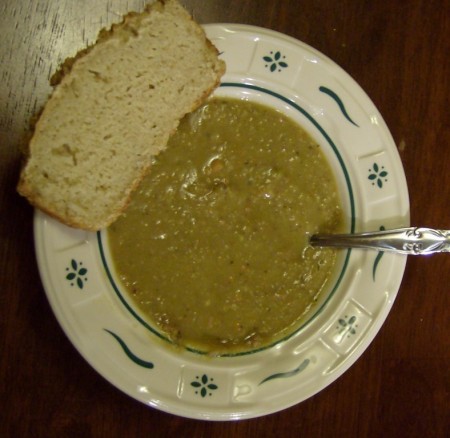 Ham Bone Soup Recipes
A ham bone adds so much flavor to soups. You can also add flavor to beans by adding a ham bone to dried beans and cooking the beans as you normally would. Just like with soup, you remove the bone before serving.
How do you use up leftover ham?