My youngest son is a very picky eater. I am always looking for new ways to adapt recipes to make them palatable to him. There is no way he is going to eat a broccoli casserole at this time. However, if I switch the vegetables, increase the rice, decrease the cheese, and cook the casserole in muffin times, he will cheerfully eat it.
One of the main ways I can get my son to try new foods is to involve him in the cooking process. If he has helped me create a recipe, he will always taste it.
Most recipes have a lot of flexibility to them so you can involve kids by letting them choose some of the ingredients. I gave my son a choice of brown rice or white rice, I let him decide which vegetables to include and I let him decide what type of cheese we would include. Even though the decisions are fairly minor, they give him a sense of ownership over the final product. He choose brown rice, a vegetable mixture of corn, peas, and carrots, and cheddar cheese, which turned out to be a delicious combination!
Tips for Cooking with Kids
Before you start cooking, look at the recipe and figure out which steps your child can easily help with, which ones you will have to do yourself, and which tasks they can do with a little help from you. This will help you plan your work flow out a little better. I knew that my son could do a few of the steps, but that he would need extra time to do them, so I waited until the rice was cooking to have him help me with those items. An added bonus to waiting to do some of the food prep until the rice was simmering was that it made the time pass faster for him.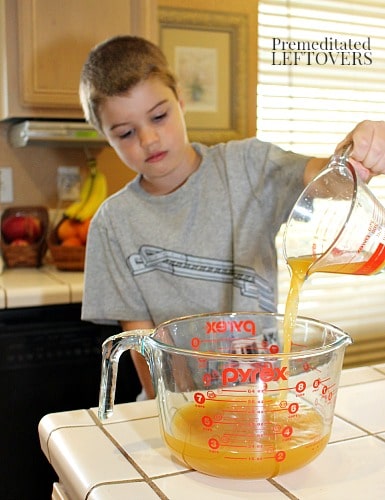 I recommend having children add any ingredient that can significantly alter the recipe if they don't get the amount just right to a separate bowl first. I have my son add liquids and eggs to a separate bowl and after I have verified the amount is right, then I let him add it to the rest of the ingredients. It makes one extra dish to clean, but it can save a lot of trouble if a child makes a mistake when measuring or cracking eggs.
While I would never let my son use a sharp knife, I do let him cut some vegetables and herbs with kitchen scissors. He is already proficient with scissors, so this is an easy task for him, but novel enough to still be fun.
My son thinks grating cheese is tons of fun. He likes to watch from the top so he can see inside the cheese grater as he grates the cheese. I give him a large block of cheese and have him stop before it gets too small so he doesn't accidentally scrape his fingers.
Help your child do the things that are too difficult for them to do on their own rather than doing it for them. My son doesn't know how to crack eggs yet, but instead of doing it myself I put his hand between my hand and the egg so he can get a feel for home much pressure to apply when tapping the egg against the side of the dish. This takes more time now, but he will learn this new skill at a younger age than if he just watched me.
Allow extra time for playing and experimenting when cooking with kids. While beating eggs is a simple task that I don't spend much time thinking about, for my son it is a fascinating activity. Unless there is a pressing need to do a step quickly, try to enjoy the process through your child's eyes.
Kids can grease the baking pans. I put butter or oil on the outside of a plastic sandwich baggy, then I put my son's hand inside the baggy and let him apply the grease to the pan without having to worry about his hand getting too dirty.
To a child, rubbing butter inside a muffin tin can seem quite silly. Be sure to explain why you do the things you do, so your child can transfer that knowledge to other recipes.
Find ways to make the cooking process easier for your child. Spooning the rice and vegetable mixture from the large bowl to the muffin tin would be a messy and frustrating experience for my son, so I gave him a measuring cup to work with the mixture is more manageable amounts.
Waiting is the hardest part! Let your child set the timer and place it where they can see it. It won't make the time go any faster, but at least they can check the timer to see how much longer the rice needs to cook rather than asking you every 30 seconds.
Do you enjoy cooking with your child? If so, consider entering the Ben's Beginners Cooking Contest with your child! You just need to create a short video with your child (age Kindergarten through 8th grade) making a recipe using rice. Ben's Beginners Cooking Contest is open through October 10, 2014. You can find more details on Uncle Ben's Facebook Page.
Vegetable Rice Cups + Tips for Cooking with Kids
Ingredients
1¼ cups cooked Uncle Ben's Instant Brown Rice
2¼ cups vegetable broth
1 cup cheddar cheese, shredded
1 cup frozen mixed vegetables
2 green onions, thinly sliced
2 eggs, beaten
Directions
Preheat oven to 400 degrees.
Grease 12 muffin cups.
Combine rice and vegetable broth in a medium sauce pan.
Bring to a boil. Reduce heat and cover. Simmer for 10 - 12 minutes or until broth is fully absorbed.
Remove from stove and add green onions and frozen mixed vegetables.
Stir in cheese and eggs.
Divide mixture evenly into muffin cups.
Bake for 30 minutes.
The Vegetable Rice Cups freeze well.
Cooking with your children makes for a great beginning! Visit www.unclebens.com and click on The Ben's Beginners™ Cooking Contest page to learn more!
This is a sponsored conversation written by me on behalf of Uncle Ben's. The opinions and text are all mine.