I am not a morning person. At all! Unfortunately both of my sons are, so that means I have to get out of bed at the crack of dawn.
For me to have any chance of having a reasonably smooth morning, I have to start  planning the night before. I play to my strengths and take advantage of the energy boost I get in the evenings to prep for the next day.
Actually, I start planning for the whole week on Sunday evening. On Sunday evening I make lunches for the week and put them in the refrigerator.
Tip: If you want to make salads in advance, put the dressing on the bottom, add a layer that will not wilt like crunchy carrots or cheese and then place your greens on top. I put a little extra dressing or salsa on bottom, so my husband can dip his vegetable sticks in the leftover dressing.
My husband takes his lunch in a reusable lunch bag. I put the prepped food on the shelf above his lunch sack and refill it when he brings back the empty bag.
I ask everyone their schedule for the week and have them check to make sure they have enough clean clothes for their planned activities. The night before, I plan and lay out clothing and remind my husband and kids to do the same.
I have everyone line up everything that they will need the next day by the front door: back packs, gym clothes, instruments, etc. This prevents  the mad dash to gather everything together before we leave.
Breakfasts are pretty easy because my husband usually makes a triple batch of pancakes or waffles on the weekend. I wash fruit the night before and set out place settings, so all we have to do in the morning is toast frozen waffles. Despite our easy weekday breakfasts, I still make my youngest son's morning cup of milk as well as a "breakfast snack" the night before, just in case he wakes up extra-early and wants breakfast and milk before I am fully functioning. Then he can enjoy pancakes or waffles for his "second breakfast".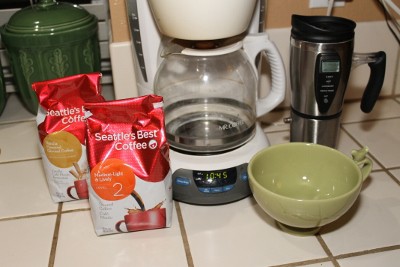 But the most important thing I do the night before is program my coffee maker to go off 5 minutes before my alarm. If I can smell fresh brewed coffee, I will get out of bed instead of hitting snooze.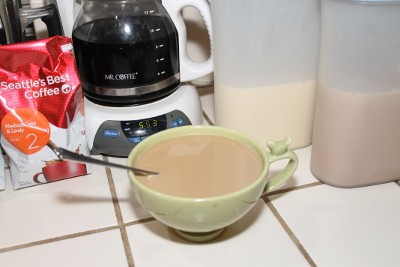 I have a special cup waiting for me and I take a few minutes to enjoy my Seattle's Best coffee. By the time I have finished my first cup of coffee, I am ready to face the day. But I pour myself a second cup for reinforcement.
To make our coffee a special treat I make flavored coffee creamers. French Vanilla Creamer is my stand by, but sometimes Mondays require a special creamer like Vanilla Caramel Creamer or Peppermint Mocha Creamer.
Copyright © 2014 Premeditated Leftovers
Copyright © 2014 Premeditated Leftovers
How do you take back your morning?  To learn more about Seattle's Best Coffee, visit their website. My favorite is Level 2 and found it amusing that their "level 2 personality description" matched my personality very closely.
I am a member of the Collective Bias®  Social Fabric® Community.  This shop has been compensated as part of a social shopper insights study for Collective Bias®  and Seattle's Best Coffee #cbias #SocialFabric. All opinions, ideas, and recipes are my own.
Yum