The German tradition of a Back To School Schultute cone is a fun way to celebrate a new year, whether you are sending your child off to a brick and mortar school or homeschooling. The tradition is from more than 200 years ago when parents would send their children off to their first day of school with a brightly colored cone full of little gifts on their first day of school- little gifts, candies, snacks, or school supplies. It is becoming increasingly popular in the United States and is a sweet way to bring a bit of cheer to what might otherwise be a nerve wracking and bittersweet occasion. They are simple to make and can be filled with any number of fun and/or practical items. I did one for the first time this year for First Grade and I was so glad that I decided to implement this tradition in our homeschool.
Back To School Schultute Cone
To make your own Schultute Cone you will need just a few things.
Supplies:
Heavy Duty Posterboard
decorative duct tape
tissue paper
optional-markers and stickers
Directions:
Roll poster board into a cone shape with a very small opening at the bottom to prevent items from falling out. You can either leave your cone with a point at the back or cut so that it is even across, it is just a matter of preference. Tape from bottom point up seam all way.
Lay tissue paper along the inside opening of cone, fasten to posterboard with tape, continue all the way around.
Fill your cone with goodies, and tuck tissue paper down or twist gently and tie with curling ribbon.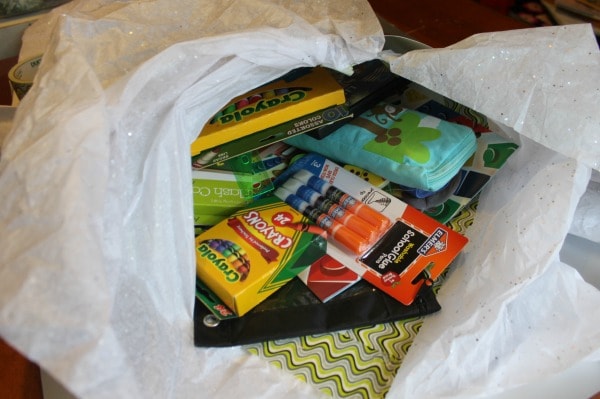 You can put anything you desire in your cone, I used items that I had already intended on purchasing for school so beyond the couple dollars for poster board, tissue, and duct tape I didn't really spend any extra money on Back To School Items.
Ideas for filling the Schultute Cone:
crayons
markers
pencils
rulers
note pads
calculator
flash cards
small games
DVDs
t shirt
underwear
manipulatives
snacks like- raisins, granola bars, sugar free gum
He was absolutely delighted to see the shiny cone, and even more so as he dug through his treasures ( and they were mostly just standard school supplies!) Simple, everyday items transformed by a little special packaging and well worth the few minutes it took to put together.
Have you done a Schultute Cone in the past? Or do you have another back to school tradition that you enjoy? Share yours with us!