Are you eagerly waiting to watch the summer Olympics? These fun Summer Olympics games and activities for kids are a great way to celebrate the sporting events that are hosted at these magnificent games.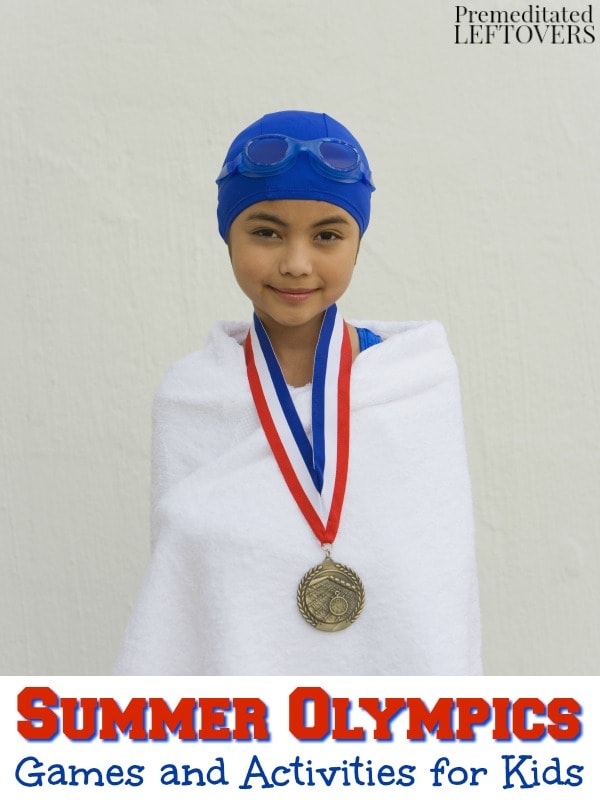 The 2021 Summer Olympic Games are right around the corner and will be a huge National focus for the majority of the month of August. The games are in Tokyo Japan and will be going on from the Opening Day ceremony on July 23rd to the Closing Ceremonies on August 8th. Nations will compete in all kinds of great summer sports while kids and parents around the world will watch in wonder. Kids can imagine that they are competing for medals at the highest levels and also learn about good sportsmanship. Kids love imagining they are Summer Olympic champions.
Let's take advantage of this chance to encourage our children to reach for the stars. Here are some really fun Summer Olympics Games and Activities for Kids to enjoy this Olympic season:
Olympic Games and Activities for Kids
Olympic Games for Kids
Badminton: While this sport is a good bit more intense on the Olympic playing fields, badminton is a fantastic game to play with your children. Even the smallest child can enjoy batting the shuttle around and pretending to be an Olympic champion.
Basketball: What kid doesn't love playing basketball? Our national basketball teams are perennial gold medal contenders, so it makes perfect sense to focus on the game with your kids. Children love to watch basketball too. Watch our men and women bring home gold medals again this Olympic season!
Bike Riding to the Gold: Kids and bikes go together naturally. Olympic bikers compete in many formats and with many different types of cycles and tracks. From mountain biking to BMX excitement, your kids can really get a workout! Place some cones out in the driveway for a slalom course or help them create a path in the woods. There are endless variations that will keep you moving this summer and your kids dreaming along the way!
Field Hockey (Socks Edition): On a rainy day this summer during the Olympics, get out some socks and a couple of brooms. At one end of a hallway, you can set up a "goal" by taping the shape to the wall or door (Be careful to use tape that will not harm the surface). Take the socks and ball them up tightly. Use the brooms to have fun taking your shots. This game can be a ton of fun but you need to supervise to make sure nothing broken or shattered while they are "dreaming" about Olympic gold.
Swimming Pool Olympics (Family Edition): This is a highly adaptable thing that can include any number of awesome Olympic events. There are races, diving, and even synchronized swimming. Get the whole family together at the pool and have your own Olympics. Create some family "medals" to award and enjoy the competition. This is a wonderful chance for you to teach sportsmanship and effort
Fencing with Noodles: One of the most awesome Summer Olympic contests involves two people and two swords. What could be better? While your wee ones can't compete in this contest with a sword, they can most certainly fence with a couple of the foam noodles that they use in the swimming pool. An enterprising mom or dad could even trim the noodles so that they look a bit more like the fencing swords you see on television.
Plastic Golf: As you probably know, golf was added to the games this year and boy are people excited! You can enjoy this awesome game simply by grabbing some plastic golf balls and marking off holes in your yard. A tree, for example, can be one hole to hit to. If you touch the tree, you have put the ball in the hole. Whoever scores lowest wins the game!
Olympic Activities for Kids
There are a ton of fun and exciting crafts and activities that you can enjoy with your kids during the Olympics this summer. The key is to be creative and see who can come up with the coolest ideas. Sit down with your kids and engage them about the games. Ask them what they would like to create, draw or imagine. You would be surprised how many awesome ideas are right there in their imaginations ready to come out. Here are a few to get you started:
Make a homemade archery set. Though it may sound complex, it is not at all. Just find a branch that is flexible and cut it to about three feet in length. Mom and Dad can then cut a hole in each end of the branch. Tie a flexible string between the two ends and you have your bow. Then you simply carve or whittle some arrows and you have a nice little bow and arrow set. Obviously, you want to supervise this craft but it is a hit with girls and boys.
Create "real" medals: Get some red, white and blue ribbon and have your little ones cut out some medals with construction paper. You can get creative with the materials, but all of them are tons of fun and can be awarded to the winners of the contests above.
Summer Olympics sidewalk fun: Colored chalk and a sidewalk are all that you need for this fun and exciting craft. Just have the little ones create pictures of their favorite events and superstars. This colorful sidewalk chalk fun can turn into an event all by itself. Have the entire neighborhood join in to see who can come up with the best section.
Olympic Books for Kids
Olympic Facts for Discussion
If you want to really get some mileage out of an Olympics with your kids, use the following talking points to get them engaged and learning. All of these facts and talking points are related back to the summer Olympics in some way and will help you to teach your children lessons.
The first Summer Olympic Games were held in Athens, Greece in 1896. Ask your kids how the Olympics would have been different way back then? What problems would they encounter back then?
The 1980 Summer Olympics in Moscow were boycotted by 66 nations. America was one of them because Russia had invaded Afghanistan. Why did they do that? Should America stand up for countries? How does this relate to our current wars/tensions overseas?
The five rings of the Olympiad represent Africa, Asia, Australia, Europe and the Americas. It is meant to encourage friendship and togetherness among nations and competition. How can you apply that to your everyday lives? How can kids embrace this ideology?
Highlights Olympic Viewing Guide and Event Schedule
If your kids are interested in watching specific sports or want to keep up with how the athletes do, below is a quick look at the Summer Olympics schedule. The dates of events are subject to change. Check your local listing for dates and times.
Archery: July 23 – 31
Badminton: July 24 – August 2
Basketball: July 25 – August 8
Boxing: July 24 – August 8
Canoeing: July 25 – July 30
Canoeing (sprints competition): August 2 – 7
Cycling (BMX): July 29 – August 1
Cycling (Mountain Biking): July 26 – July 29
Cycling (Track): August 2 – 8
Cycling (Road): July 25 – 28
Diving: July 25 – August 7
Equestrian: July 24 – August 7
Fencing: July 24 – August 1
Field Hockey: August 7 – 20
Golf: July 29 – August 7
Gymnastics: July 24 – August 8
Handball: July 24 – August 8
Judo: July 24 – 31
Rowing: July 23 – 30
Rugby: July 26 – July 31
Sailing: July 25 – August 1
Shooting: July 24 – August 2
Soccer: July 21 – August 7
Swimming (pool events): July 23 – August 1
Swimming (open water events): August 15 – 16
Synchronized Swimming: August 2 – 7
Table Tennis: July 24 – August 6
Taekwondo: July 24 – 27
Tennis: July 24 – August 1
Track and Field: July 30 – August 8
Triathlon: August 18 – 20
Volleyball (beach): July 24 – August 7
Volleyball (indoor): July 24 – August 8
Water Polo: August July 24 – August 8
More Ways to Keep Kids Active This Summer:
7 Classic Games to Play Outside This Summer
Fun Outdoor Physical Activities for Kids
Outdoor Water Activities for Kids to Beat the Heat