When you are looking for a fun kid craft idea, look no further than this Worms In Dirt Edible Craft for kids. Your little ones can have fun making their own little edible worms while learning and playing. This craft makes a perfect addition to a homeschool lesson on worms, or just as a playtime snack that also keeps kids occupied and having fun.
I am all about hands-on kid craft ideas that are also educational. While this Worms in Dirt Edible Craft may seem like just a fun way for kids to play with cereal, it's actually a great way to teach. You can easily use this craft to supplement a lesson on earthworms. For younger kids just wanting to do schoolwork like their siblings, this can dig in too. Maybe even pretend they are eating real worms? Of course, they will love that!
Worms in Dirt Edible Craft for Kids Tutorial
colorful fruit Os cereal
finely crushed chocolate cookies, optional
Directions:
1. For large worms, use one chenille stem. For small worms, cut 1 chenille stem in half.
2. Fold over one end of the chenille stem and begin to thread a cereal onto the opposite end of the stem.
3. When the stem is almost full (don't put them too tightly together) fold the stem to create a worm shape. You may need to remove a few to fold the open end over to keep the cereal on the chenille stem.
4. Use black sparkle gel to add eyes to your worms. Place your worms onto a bed of cookie "dirt" if desired.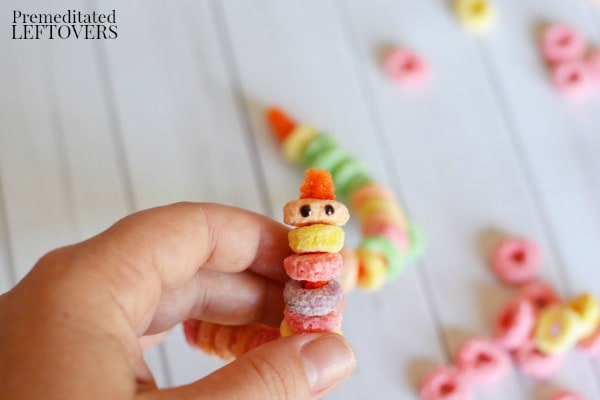 This fun kid craft idea is a great way to work on many concepts that fit into you homeschool classroom.
Learn colors and sorting
Fine motor skill practice
Following directions
Learning about earthworms and their purpose
Adding in homeschool concepts makes this Worms in Dirt Edible Craft even better to do with the kids.  Even if you aren't a homeschooling parent, you can add some learning concepts to their routine.  By grabbing some books, coloring books, and doing this craft, you'll be able to teach them easily without it feeling like a homeschool lesson.
This Worms In Dirt Kid Craft idea is a great fun way to spend some time playing with your kids while they learn.  Eating this yummy treat while they learn is a great way to help your kids love education.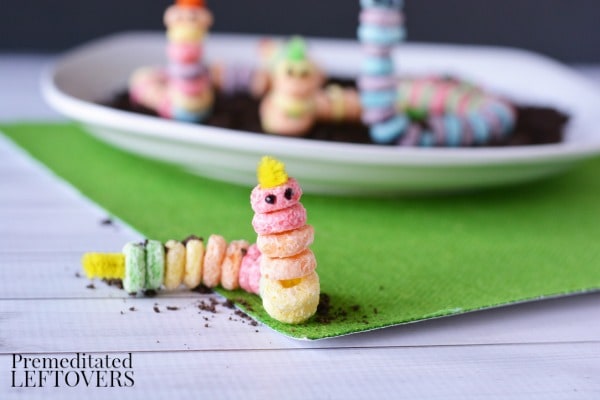 More Edible Crafts for Kids:
Thanks to Kari of Craft Create Cook for sharing her tutorial and pictures with us.