"This post is part of a social shopper marketing insight campaign with Pollinate Media Group™ and WonderBag, but all my opinions are my own. #pmedia #WonderBag http://cmp.ly/3/8vNxcO."
I made honey mustard chicken with vegetables by cooking in a Wonderbag. Every time I tell someone I cooked dinner in a Wonderbag they ask "What is a wonderbag?" A Wonderbag is an insulated bag that cooks your food like a slow cooker, but without heat. You bring your food to a boil on the stove, then put the pan in the bag and let it work its magic.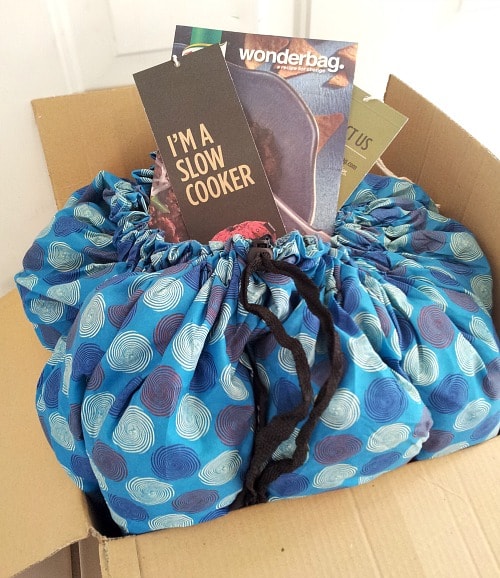 The WonderBag was created to help women in other countries spend less time preparing meals over an open fire. Did you know that women living in poverty and third world countries typically spend 4-6 hours per day preparing meals? The WonderBag has helped them to drastically reduce the amount of time spent cooking and tending to open fires. Even though we have so many luxury items that make cooking easier and safer, cooking in a Wonderbag can save time and energy in a modern kitchen too.
Like most moms, I spend a lot of my day running kids around. School, practice, lessons, field trips and some where in there I have to figure out how to feed my family. I know, first world problems! After all the after-school activities, I usually walk in the door with starving kids and I don't have anything prepared for them because I won't leave the oven on if I am away from the house. I don't even like to leave an appliance plugged in if I'm not home. The Wonderbag allowed me to create a hearty, home-cooked meal without using gas or electricity.
The Wonderbag's insulating properties allow food that has been brought to the boil to finish cooking in the bag which greatly reduces the use of energy to prepare a meal. This means I can create a delicious meal for my family while saving energy and money. I can put dinner in the bag before I take the kids to their after-school activities and come home to a hot dinner.
In the first step, you bring your meal to a boil in a pot that has a secure fitting lid. The Wonderbag comes with an instruction book with directions for how long you need to boil different types of recipes before putting them in the Wonderbag.
Once your dish has reached a boil, place the lid on it, put it in the Wonderbag, and let it cook. No utilities required! You cannot burn your meal and the liquid is trapped ensuring your dish will be moist and tender. In an electric slow cooker this dish needs to cook for at least 4 hours, but because I brought it to a boil and then put it in the Wonderbag it only takes 1 1/2 hours.

Honey Mustard Chicken and Vegetables is always a favorite with my kids, especially when they walk in the house starving. While there is a minimum about of time you must cook your food in the Wonderbag, you cannot overcook your food, so even if you are running behind you don't have to worry about ruining dinner.

Slow Cooker Honey Mustard Chicken Made in a Wonderbag
Ingredients
1 tablespoon olive oil
4 boneless, skinless chicken breasts, cut into tenders
4 medium potatoes, washed and cut in bite size pieces
1 pound of baby carrots
½ cup mustard
½ cup honey
Honey Mustard Sauce
¼ cup honey
¼ cup mustard
2 tablespoons mayonnaise
Directions
Add the olive oil to the pot. Place the chicken pieces in the pot and cook over a medium- high flame until the chicken is browned on all sides.
Remove the chicken from the pot.
Place the potato pieces and carrots in the pot and saute for 10 minutes.
In a small bowl, mix the honey and mustard together.
Add the chicken to the vegetables. Coat with the honey mustard sauce and simmer for 5 minutes.
Place the lid on the pot and place the pot in the Wonderbag for a minimum of 1½ hours.
Make the honey mustard sauce by combining the honey, mustard, and mayonnaise in a small bowl. Use a whisk to blend the ingredients.
When you are ready to serve dinner, plate the food and drizzle the honey mustard sauce over the chicken and vegetables.
I was really impressed with the Wonderbag. I have cooked several meals in it including Pulled Pork while driving 70 miles to attend a party. Yeah, on top of being an eco-friendly way to prepare meals, it is portable, so you can cook dinner anywhere making it perfect for potlucks, barbecues and picnics.
You can find the Wonderbag on Amazon. For every Wonderbag purchased in the US, one is donated to a family in need in Africa.
You can get ideas and see how others are using their Wonderbags by following along on Facebook, Twitter, and Instagram.