For a recent barbecue, I made this Mojito Melon Salsa using watermelon, cantaloupe, honeydew, grapes, cucumbers, and green onions. Then I stirred in some lime, honey, and mint to achieve the mojito flavor.
While many are mourning the end of summer, I am doing a happy dance because it is melon season! Melons are at the peak of freshness right now, so I have been picking up melons each time I go shopping.
I love melons! I could, and have, eaten a whole cantaloupe for lunch and then had watermelon for dessert. So when it was my turn to come up with an appetizer for a barbecue, making salsa with my favorite fruits seemed like a natural choice.
Kitchen Tip: When you cut up watermelon and other melons, put your cutting board inside a cookie sheet to keep the juice from getting all over the counter.
Mojitos are flavored with lime and mint. I used the zest and juice of one lime and 15 mint leaves to create the unique mojito flavored dressing.
In addition to melons, I added cucumbers, grapes, and green onions to the salsa. It is a sweet salsa, but the green onions give it a slightly savory touch.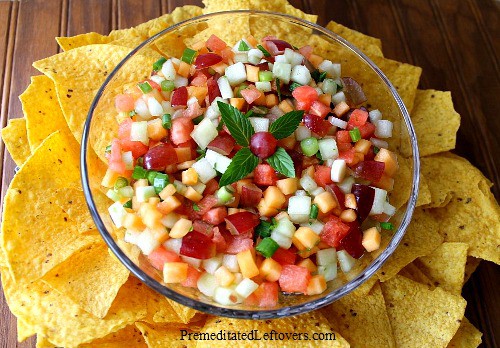 Mojito Melon Salsa
Ingredients
1 cup watermelon, diced
1 cup cantaloupe, diced
1 cup honeydew, diced
½ cup cucumbers, diced
½ cup grapes, diced
2 green onions, thinly sliced
zest and juice of 1 lime
1 tablespoon honey or sugar
15 mint leaves, shredded (extra for garnish optional)
Directions
Add the diced watermelon, cantaloupe, honeydew, cucumbers, and grapes to a medium bowl.
Add the lime zest and shredded mint leaves.
In a small bowl, combine the lime juice and sugar. If necessary, drain some of the juice from the bowl of fruit and add it to the lime juice to help dissolve the sugar. Pour the lime dressing over the fruit. Toss to thoroughly coat.
Chill for 30 minutes before serving.
Serve with chips.
One of the great things about this recipe is that since it only uses 1 cup of watermelon, you have lots leftover to make fruit kebobs, fruit salad, or watermelon cupcakes:
Yes, it is absolutely acceptable to serve watermelon for every single course, including dessert!
More Watermelon Recipes