If you are trying to cut back on processed sugar, you will love these fresh watermelon cupcakes! Use the tutorial below on how to make cupcakes with real watermelon to make a healthy dessert for your next party.
I am trying to cut back on the amount of refined sugar that I consume. August is birthday month in our house, making my goal a little more difficult. Instead of skipping the sweets at the family birthday party or giving in to temptation and over-indulging, I decided to make watermelon cupcakes.
When I say watermelon cupcakes, I don't mean watermelon flavored cupcakes or cupcakes decorated with frosting to look like a watermelon, I actually carved the watermelon into the shape of cupcakes and then decorated them with whipped cream, raspberries, and mint leaves. It was really quite easy and they are ready faster than you can make traditional cupcakes.
Fresh Watermelon Cupcakes Recipe
Ingredients:
Directions: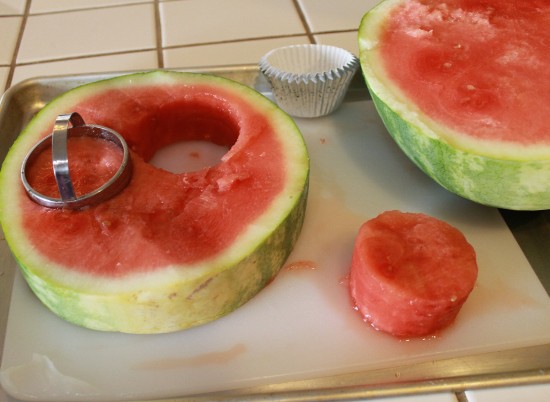 Cut the watermelon into 2 – 3 inch thick slices. Then use a biscuit cutter
or glass to cut the watermelon into circles.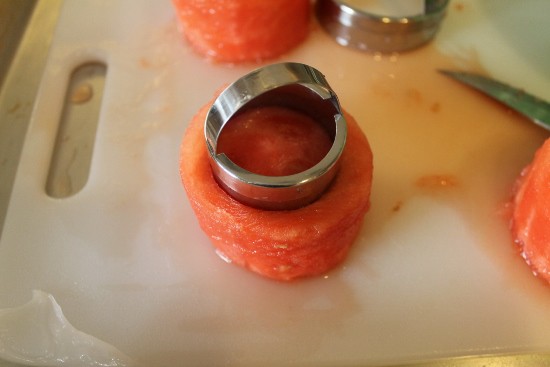 Because cupcakes are smaller on the bottom and flare out. I used my smallest biscuit cutter
to make a cut in the bottom. I don't go very deep, just enough to make an imprint:
Then I use the imprint on the bottom as a guide as I cut the watermelon so that they flare up from the small circle on the bottom:
Then I place the watermelon in foil cupcake cups. I left the paper liner in to soak up any juice. I used my Cupcake Decorator
to top them with homemade whipped cream. I added mint leaves and raspberry to the top of each cupcake.
Everyone loved the watermelon cupcakes! The natural sweetness of the watermelon made it the perfect replacement for cupcakes.
Printable Recipe for Fresh Watermelon Cupcakes
Watermelon Cupcakes
Directions
Cut the watermelon into 2 - 3 inch thick slices.
Use a glass or biscuit cutter to cut circles into each slice.
If you wish, shave the sides of the watermelon to make them smaller on the bottom.
Place the watermelon circles into foil cupcake cups.
Frost the watermelon cupcakes with whipped cream.
Place a raspberry and mint leaves on top.
Keep cool until it is time to serve dessert.
The process of making watermelon cupcakes leaves you with lots of little pieces of watermelon leftover which is perfect for making Mojito Melon Salad
More Watermelon Recipes:
Watermelon and Rosemary Ice-Cubes
Watermelon Lemonade Martini Recipe
Originally published August 20, 2013. Updated on August 3, 2018.