We love fruit salads! Usually when I make a fruit salad, I simply use watermelon, cantaloupe, and grapes. It doesn't even need a dressing, because let's face it, watermelon, cantaloupe, and grapes are good enough on their own. They don't require a dressing. But sometimes I like to get a little fancy. On those occasions, I replace the grapes with berries and use a honey, mint, and lime dressing to create a Mojito Fruit Salad.
When you cut your watermelon, place a cookie sheet under the cutting board to capture the drips. It will prevent your counter from becoming a sticky mess. I like to use a melon ball scoop to create watermelon and cantaloupe balls, but when I am in a hurry, I use a knife to quickly create bite-size pieces of melon.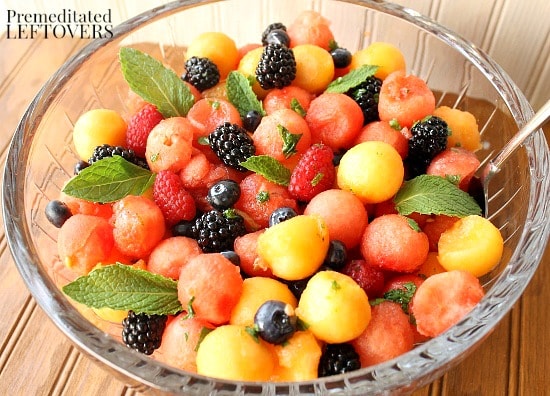 After adding the melon and berries to the bowl, I drizzle the mint-lime dressing over it and add a few mint leaves for garnish.

Mojito Fruit Salad: Watermelon and Berry Salad with Mint-Lime Dressing
Ingredients
½ a medium seedless watermelon
1 cantaloupe
6 oz raspberries
6 oz blackberries
6 oz blueberries
zest and juice of one lime
2 tablespoons honey
1 tablespoon water
1 tablespoon mint leaves, mince
6 - 10 mint leaves
Directions
Use a melon ball scoop or a knife to create bite size pieces of watermelon and cantaloupe.
Add the melon to a large bowl. Add raspberries, blackberries, and blueberries to the melon. Toss gently, so you don't crush the berries.
In a small bowl, combine zest and juice of one lime, honey, water, and minced mint leaves.
Drizzle dressing over the fruit to coat.
Use the remaining mint leaves as garnish.
Cover and chill for 1 - 2 hours before serving.
Use any leftover watermelon, cantaloupe, and berries to make fruit skewers:
More Watermelon Recipes