My new cookbook, Prep-Ahead Breakfasts and Lunches is now available wherever books are sold. You can see inside the cookbook here. This book is filled with delicious make-ahead breakfast and lunch recipes, so you can quickly and easily make breakfasts and lunches for the whole week in just an hour or two on the weekend.
Make your mornings flow smoother with premade breakfasts and prepacked lunches! Each recipe includes storage tips and if necessary, reheating instructions.
Save Time and Money with Prep-Ahead Breakfasts and Lunches
The prep-ahead breakfast recipes save you time in the mornings. You can quickly heat up a premade breakfast or choose one that you can eat on the go.
The breakfast recipes include Pizza Breakfast Cups,  Cajun Egg Croissant Sandwiches, Greek Steak and Egg Pita Pockets, Chocolate Hazelnut Muffins, Jalapeno Cornbread Waffles, Cinnamon Roll Slow Cooker Oatmeal, and Overnight Pumpkin Pie Spiced Pecan Granola.
The grab and go lunch recipes help you save money while eating healthier lunches. Skip the fast food and use these recipes to prep your lunch for the week.
The lunch recipes include Mongolian Beef and Broccoli Rice Bowls, Caprese Spaghetti Squash Bowl, Chopped Chimichurri Steak Salad, Pizza Quinoa Salad, Teriyaki Sliders, Ratatouille Grilled Cheese Sandwiches, and Buffalo Ranch Chicken Soup.
The make-ahead snacks and desserts are perfect for whenever you need a treat on the go. Use these dessert recipes to include a treat in a lunch bag or take to a party without ending up with smashed desserts.
The dessert recipes include Cranberry and White Chocolate Chip Granola Bars, Upside-Down German Chocolate Cake,  Apple-blueberry Cobbler in Mason Jars, and Pumpkin Snickerdoodle Bites.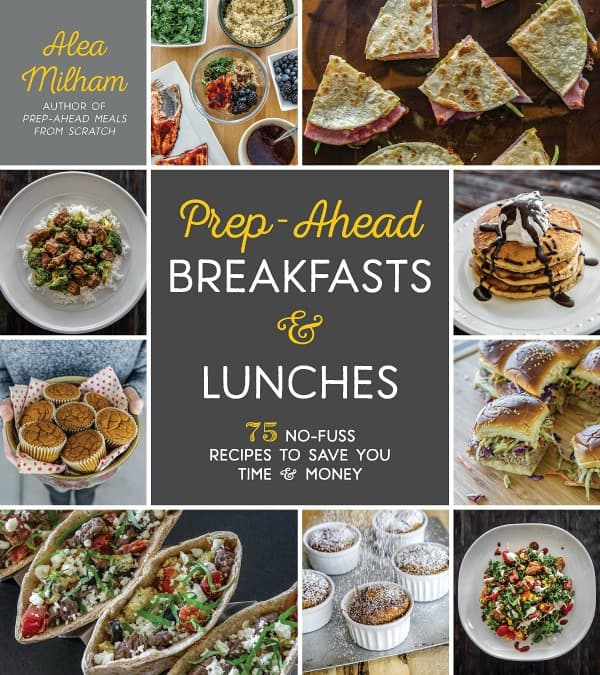 Stores where the Prep-Ahead Breakfasts and Lunches Cookbook is available:
and wherever books are sold.
From the Editor:
Ready-To-Go Meals In No Time
This new recipe collection from Alea Milham, author of Prep-Ahead Meals from Scratch and founder of the blog Premeditated Leftovers, is bursting with fresh, time-saving ways to fuel your family and yourself. Ready to end the days of skipped breakfasts and takeout lunches? With Alea's expert advice, you'll have your fridge stocked with homemade grab-and-go meals, full of ingredients you can feel good about.
Simple do-ahead techniques help you savor even the busiest weekday mornings. Find breakfasts the whole family will enjoy, with options like Italian Vegetable Mini Frittatas, Garlic and Rosemary Sweet Potato Pancakes and Strawberry Rhubarb Baked Oatmeal. Packing lunch doesn't have to mean the same old soggy salad! Batch cooking and ingredient prep make grabbing a flavorful meal from your lunch bag a no-brainer. Try the Bourbon Beef and Quinoa Bowl, Chopped Chimichurri Steak Salad and Chicken Marsala Pockets. Skip the pre-packaged snacks and try Alea's recipes for your own treats and desserts, too.
Prep-ahead meals take planning, so let Alea do the hard work for you. Recipes include instructions on how to store and reheat each dish, taking the guesswork out of meal prep. This book will help you build money-saving shopping habits and adopt clever cooking strategies that stick. From flavorful hot cereals and breakfast breads to one-bowl wonders and salads on the go, quick morning and afternoon meals will become the highlight of your day.
You can buy  Prep-Ahead Breakfasts and Lunches cookbook on Kindle or on Nook. I like having an eBook version of cookbooks because then I can access them from my smartphone when I forget my shopping list.