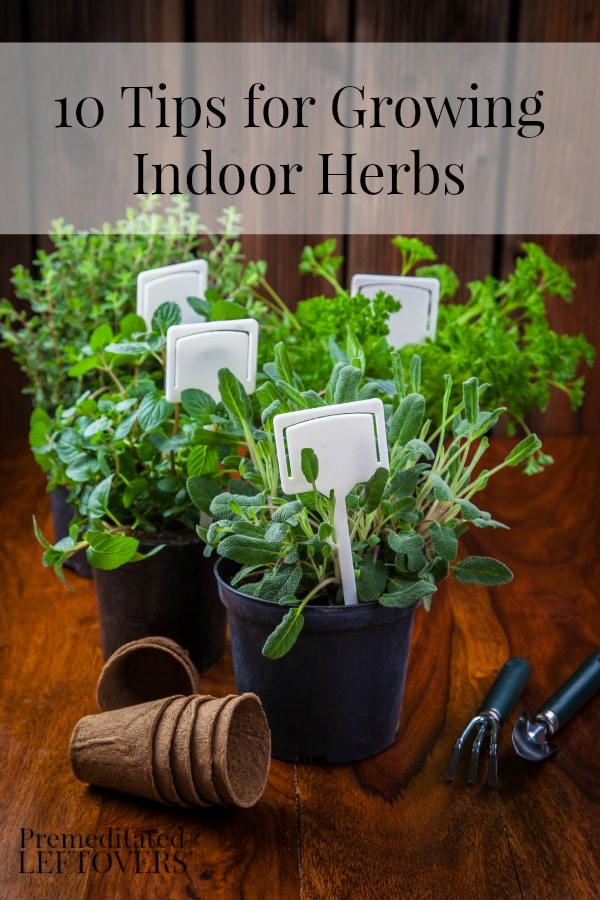 Growing an indoor herb garden doesn't mean you have to have a green thumb, but it does require a good dose of natural sunlight and some tender loving care. By using just a few pots indoors, fresh herb plants can provide you with a nice variety for all of your culinary adventures.
The most common herbs that can grow indoors easily are rosemary, basil, oregano, mint, parsley, sage, and thyme. Simply choose herbs that you use most frequently in your own cooking. Here are 10 helpful tips to grow fresh herbs successfully indoors.
10 Tips for Growing Indoor Herbs
1. Potting. Make sure you choose a container that is large enough to handle the growing herb and has holes on the bottom so that the water can drain properly.
2. Soil. Try using a good quality organic potting soil. Evenly space the herbs inside the pot and water thoroughly once planted.
3. Make room. If you are using a larger planter for all plants, make sure to space them far enough apart to leave room for them to grow. The seed packets will give the best recommendation for your herbs.
4. Water. Test the soil for dryness by sticking your finger in the bottom of the pot. Every herb has it's own individual water needs, so test each one before watering.
5. Drainage. Proper drainage helps prevent dry rot from too much water. If any leaves are turning yellow, it means they are being watered too much.
6. Light. It is important to find a place in your home where your plants will get sunlight. If your herbs are growing more stems than leaves, it means they are not getting enough direct sunlight.
7. Rotate. Regularly rotate your pots to avoid having your herbs lean in one direction. South facing windows are the best.
8. Temperature. Herb plants like the same temperature that you do. Remember that the air at the window is cooler in the winter and hotter in the summer, so adjust your plants accordingly.
9. Fertilize. Go easy on the plant fertilizer because most herbs won't need much. If you want to harvest year round, use a good fertilizer about once a month.
10. Clipping. Wait until your plants reach about 6-8 inches tall before harvesting their leaves. Clipping regularly will promote healthy growth; if they start flowering then they are not being clipped enough.
Growing an indoor herb garden can be very rewarding,e especially when you have fresh herbs at your fingertips while cooking. You don't need a lot of experience to be successful so follow these easy tips and let the aroma of fresh herbs fill your home.
More Container Gardening Tips
Container Gardening in Small Spaces
How to Grow Produce in Containers
Urban Gardening Tips for the Apartment Gardener
Stephanie Brandt is a wife, mother, teacher, and non-profit founder who lives in Pennsylvania with her husband of 17 years and their two sons, three dogs, and Lucky the cat. She and her husband founded a Toiletry Bank in their local area that helps over 50+ families with free toiletries several times a year. This ministry also helped her learn how to coupon so that she could give away even more free toiletries to needy families. In addition to helping others, coupons have helped her family get rid of over $50,000 in debt through coupons, budgeting, and living frugally. Follow along as she teachers you how to live on less at www.debtfreespending.com!