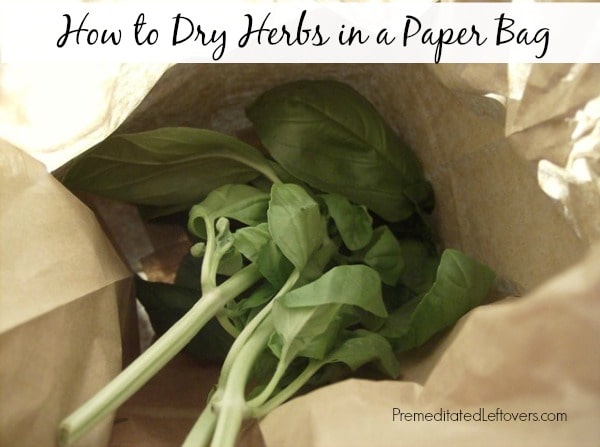 Do you have excess herbs that you would like to dry? You don't need a dehydrator; there are a variety of ways you can dry herbs. One of the easiest way to dry herbs is by drying them in a paper bag. This method takes a little longer than other methods, but it is very easy and keeps the cuttings dust free while they are hanging to dry. You can also use this method to catch seeds from your herbs.
How to Dry Herbs in a Paper Bag
1. Cut 3 – 5 stems of the herb you wish to dry. Shake to remove any bugs. Pinch any damage leaves. Wash and thoroughly dry.
2. Make several holes in a paper lunch bag to ensure that air can circulate. Insert the stems into the bag.
3. Wrap a rubber band around the outside of the bag, securing stems. You want the rubber band to be secure, but not so tight that it will dig into the stems.
4. Use the rubber band to hang the paper bag from a hook: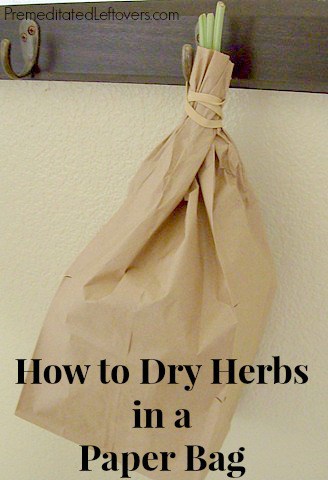 5. Check herbs after a week to see if they are dry. If not, check back in another 3 – 5 days until they crumble at the touch.
6. When dry, remove herbs from the bag. Remove the leaves from stems and store in an airtight container. You can store the leaves whole or crumble them first.
It will take 1 – 3 weeks for the herbs to dry, depending on your humidity level. Using a paper bag keeps dust off of the drying herbs and allows you to collect any leaves (or in the case of cilantro, any seeds) that may fall. They are ready once the leaves become crumbly to the touch. I store the dried leaves in an airtight, glass jar and crush as needed for recipes.
Do you dry herbs for use over the winter? Which method do you use?
More Tips for Working with Herbs