It is quite easy to grow bell peppers in your garden or in containers on your patio. Below you will find tips for how to grow green bell peppers from planting the seeds to harvesting the ripe peppers.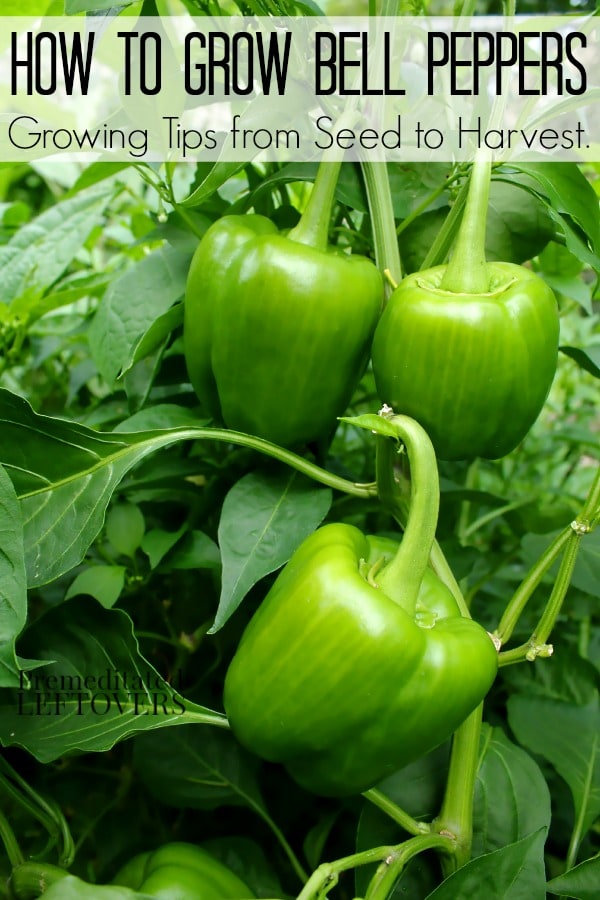 Green bell peppers are excellent when served in salads, used with shish kabobs, or served with fresh veggies and dip. Growing your own bell peppers is easy, and just a few plants can produce pound after pound of produce. If you are interested in growing green peppers this year, take a look below at these helpful tips for growing green peppers in your own garden!
How to Grow Green Bell Peppers
How to plant green bell pepper seeds:
You are welcome to start green bell pepper seeds indoors if the temperatures outside are still chilly. If planting indoors, you want to start your seeds 6-8 weeks before the final frost. Use a basic seed starting system and make sure your soil stays moist and warm. A sunny window is a perfect place for your green pepper seeds to flourish until it is warm enough to transplant. Plant the green pepper seeds 2-3 to a pot and simply thin out the weaker plants after a few weeks.
If you are limited on space, feel free to grow green peppers in containers. One to two plants per container (make sure the container is generous in size) typically works well. A tomato cage or stake may be ideal to help the plant grow upward and offer some support.
How to transplant/plant green bell pepper seedlings:
When you are ready to transplant your green bell pepper seedlings, or if you will be planting the seedlings instead of seeds, here are some tips you need to know. The temperature outdoors should be a steady 70 degrees or warmer.
Plant your seedlings about 24 inches apart so they have plenty of room to stretch but can still protect each other against the hot sun. Choose a full sun area with well-drained, nutrient-rich soil.
Some gardeners like to use match sticks when planting green peppers. Green peppers like the sulfur in them. Just drop a few sticks into the hole before adding your seedlings and watch them grow!
How to care for green bell pepper seedlings:
Your green bell pepper plants will need 2 inches of water per week. Always water the plants at the base so you don't saturate the foliage. You can use a food safe liquid fertilizer after the plants have been established for 2 weeks.
Weeds can be an issue for green bell peppers, so use a thick layer of mulch to help keep the weeds at bay. Remove any weeds as soon as you notice them. Pests aren't a huge issue with green peppers, but if you do see any (typically aphids or beetles) just pick them off as you see them or use a food safe pest repellent.
Sometimes, large bell pepper plants need a little support. Use a tomato cage or stakes to help plants stand up if the weight of the produce seems to be weighing them down.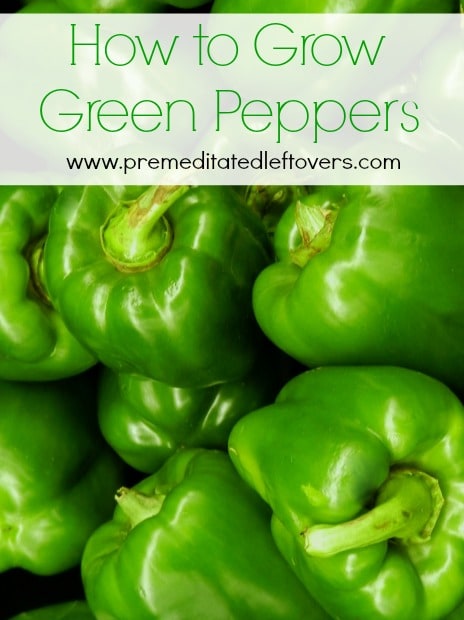 How to harvest green bell peppers:
Feel free to allow the peppers to get as large as you wish. The longer you leave them on the plant, the sweeter they become. It also increases their nutritional value. To remove the peppers, use a sharp knife and cut them off leaving 1-2 inches of stem. Green bell peppers can be placed in an airtight container or bag and stored in the refrigerator for up to 10 days.
If you love bell peppers, give these tips for planting green bell peppers a try. You will find that they are easy to grow and easy to enjoy.
More Vegetable Growing Tips