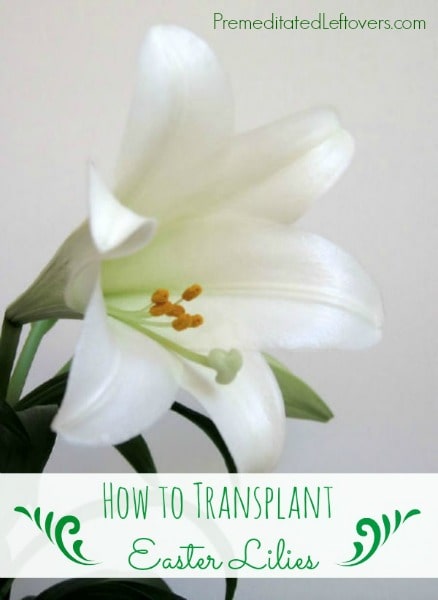 This Easter season, you may find yourself the recipient of potted Easter lilies. Easter lilies are beautiful and fragrant blooms, and can really get you in the spirit. But did you know you can enjoy them long after the Easter season is over? Easter lilies can be transplanted to prolong their life and your enjoyment. If you are unsure of where to begin, take a look at some helpful tips for how to transplant Easter lilies.
How to Transplant Easter Lilies
Directions:
1. Begin by removing any decorative foil lining from the pot of your lily. It can interfere with water drainage and cause damage. As long as the lily is in its pot, the foil should not be. This step will help you strengthen your plant prior to transplanting.
2. Keep the lily in a humid space.
Before transplanting, you also want to keep the lily in a humid space where it will get plenty of moisture. Avoid keeping it in dry areas of your home such as near a heating source.
3. Wait until the last bloom.
Wait to transplant until your Easter lily has lost its last bloom. Keep a daily eye on the plant to note when this happens.
4. Take your lily outside.
Once the weather is warm and ground is warm, and the threat of frost has passed, you can plant your lily outside. You will need to pick a spot with good soil drainage and plenty of sun.
5. Cut the lily back.
Take shears and cut the lily back so it is about 6 inches tall. This will keep the plant from wasting energy trying to revive dead foliage.
6. Remove the plant from the pot.
Turn the pot over and gently shake the lily free. Keep all of the plant intact including the roots.
7. Get it planted.
You can now place your Easter lily in the soil. Plant it as deep as the length of the pot it was in. You may want to add an inch or two on top of that as well. Fill the dirt in gently but thoroughly around the base/roots of the plant.
8. Feed the Easter lily.
Water and feed your plant as you would any other garden plant or flower. Moist soil, fertilizer, and plenty of sun will have your lily looking great.
See how easy it can be to transplant Easter lilies? Give these tips a try and enjoy yours for years to come.
More Tips for Growing Flowers