At some point I saw an idea on Pinterest for using a suet block holder and stuffing it with bits of stuff to hang in a tree for birds to use for their nests. I am always one to look around and use what I have on hand rather than running to the store to buy the ready-made version. I had these plastic nets on hand- the kind that oranges, onions, etc. come in (these particular ones came from water guns). I am probably a boarder-line hoarder, but I had these bags saved because I knew they would come in handy for some project or another. All my poor husband can do is shake his head, but hey look honey, I used them!
This is a great project to complete with the kids to teach them to care for our wild friends and recycle. Let's get started putting together our Bird Nest Filler Bag.
Bird Nest Filler Bag
Materials:
Stuffers like ribbon, twine, ripped fabric pieces, and other scraps the birds can use to construct their nests
1 netted plastic bag
1 long ribbon for hanging
Instructions:
1. Grab one of these handy dandy plastic net bags from produce or beach toys. Gather dryer lint, ribbon, twine, fabric strips, yarn, and bits of cotton. Knowing we had this in mind I have been keeping leftover bits from craft projects.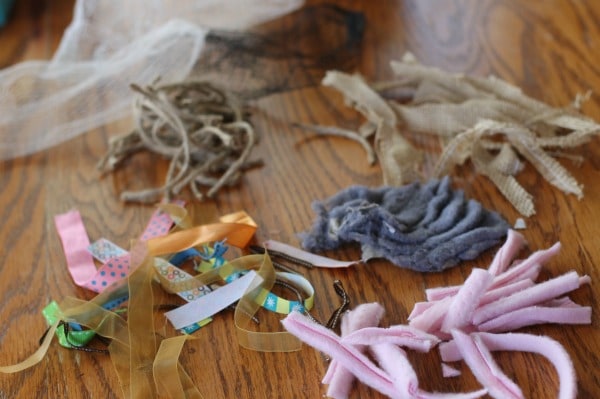 2. Let your child stuff the bag full of the scraps.
3. Tie off the end in a knot.
4. Tie on a ribbon and hang from a tree.
That's it! Be sure to offer your birds food and a water source. They will never want to leave and you will have colorful, beautiful friends in your yard all the time.
More Bird Watching Resources
How to Make a Cheerio Bird Feeder
Backyard Birdwatching Unit Study
Dollar Store DIY: $1 Bird Feeder Tutorial