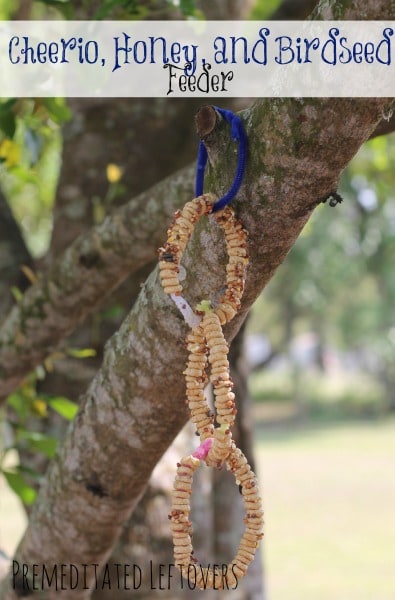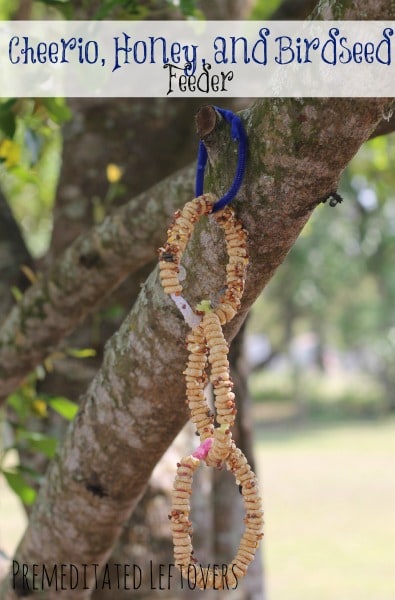 When spring and summer roll around, we start to get antsy to get outdoors as much as possible. We love to be out in nature exploring, photographing, creating, and even feeding the birds! We enjoy making all kinds of bird feeders from pine cones coated in peanut butter to milk carton feeders. This Cheerio Bird Feeder is simple, fun, and is especially good for toddlers and preschoolers as it is a great way to work on fine motor skills.
Why not try creating one of these with your little one today? You probably have everything you need on hand, and it is such a fun way to pass the time and keep their little hands busy (while you work on other things or totally jump into it yourself). While this isn't really a new idea, it is definitely a timeless one for it's simplicity and appeal to kids.
How to Make a Cheerio Bird Feeder
Supplies Needed:
Cheerios
Bird Seed
Honey
Aluminum foil
Pipe cleaners

Directions:
Bend and twist the end of a pipe cleaner so that the Cheerios won't fall off that end.
Give your child a bowl of cheerios, demonstrate how to thread on the pipe cleaner, and let them fill it up. Repeat with as many as they would like to make.

Untwist the ends and loop each one together, twisting the ends to connect. Stretch them out on aluminum foil and drizzle with honey.

Set down a bowl of bird seed and let your child sprinkle well over the honey coated cereal.

Toss excess bird seed on the ground outside for the birds and toss the foil for a super easy cleanup!
Hang your creations on the tree and enjoy watching the birds snack on it.

Looking for more bird activities to do with the kids?
More Bird Activites for Kids
What You Need for Bird Watching With Kids
Backyard Bird Watching Unit Study