Having birds flock to your yard can be quite entertaining. Providing them with a snack is the perfect way to get them to visit, and this $1 DIY bird feeder is an even cuter way to do it! Take a look at how we used a simple oil burner from our dollar store and leftover scraps from our craft bin to create something fun and purposeful. This $1 bird feeder is so simple to make, you might as well craft a few. Take a look!
Dollar Store $1 Bird Feeder Tutorial
Items Needed:
Metal oil burner ($1 at Dollar Tree, find it in the candle aisle)
Spray paint
Ribbon
You only need about 2 good sprays of paint, so use the end of a can you already have on hand. About 12 inches of ribbon works as well, so use what you have. We had a fun chevron patterned ribbon left over from another project that was perfect for this.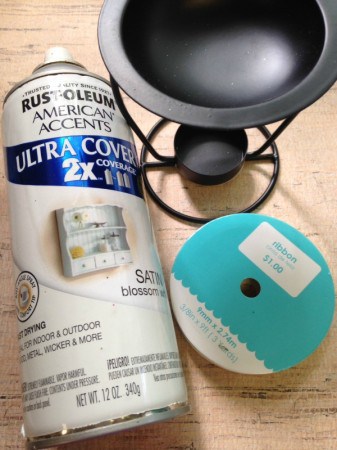 Directions:
1. Begin by placing the metal oil warmer on news paper. Apply the spray paint. I covered ours roughly, so it had an aged look. You can apply as many coats as you wish to get the coverage you want.
2. Next, tie on the ribbon. You want to knot it at each end of the warmer where the holder has support bars. We created a fun bow at each end for extra pizzazz.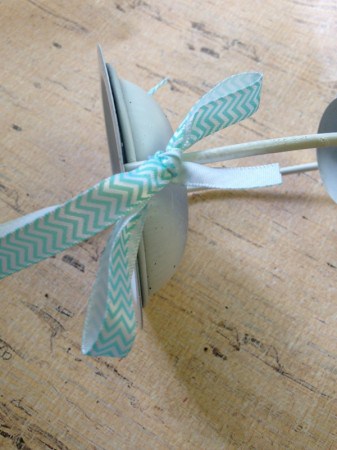 3. Go ahead and fill the warmer up with basic birdseed. Pour it into the top so it is nice and full.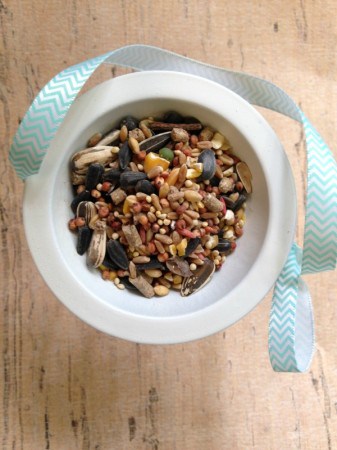 4. The oil warmer has a place where you would normally put a candle. You can fill this part with water for the birds or add more seed.
Now all that is left to do is hang the $1 bird feeder wherever you think it will get good traffic. I like to hang my feeders low so birds on the ground can easily find them. This oil burner makes the perfect bird feeder because as you can see, there are little bars for the birds to rest on while they nibble. The two tiers also makes it perfect because you can do one tier with water if you wish, like I mentioned above.
So there you have it! Using some leftover crafting scraps and a $1 oil burner from your dollar store, you can make a fun and frugal bird feeder that your feathered pals are sure to enjoy. Give it a try!
More Backyard Nature Fun
How to Make a Butterfly Puddler