I am not one to throw away anything that can possibly be used to reused. This wrought iron candle holder broke off the stand under a certain little boys not so gentle hands landed on it. While, I am still debating what to do with the stand I had an idea immediately for the candle holder section. A bright spray paint and a few objects gathered from around the house and I had a new, pretty bird feeder hanging from the tree in less than 20 minutes. I see candle holders like this often at thrift stores and yard sales as table top pieces. Even if they have plastic or glass inserts it is simple to remove the panels and get a similar look as I did here. Keep your feeder filled and enjoy your new feathered friends!
How to Make a Bird Feeder
Supplies Needed:
Candle holder
Mason jar ring and lid
spray paint
string
hot glue gun/stick
Directions:
Clean and dust candle holder.
My favorite technique for spray painting items like this is to hang it from a low tree branch with string. This allows me to get on all sides and provides great ventilation for drying. Apply a light tack coat, allow to dry. Apply 2-3 more coats as needed, allowing it to dry between each one.
Glue lid and ring together so they create one piece. My candle holder had a small needle to pierce and hold candle in place, I pierced the center of my mason jar lid on this to hold it in place. If yours does not you can just glue the lid and ring right into the inside base of your holder.
Hang your new feeder in the tree, fill with bird seed and enjoy!
More Backyard Nature Fun
How to Make a Butterfly Puddler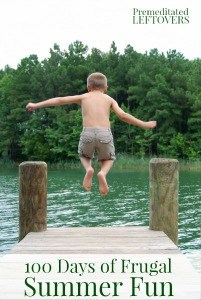 You can find more ideas for frugal summer fun for kids here as we share a new frugal summer activity for kids each day for 100 days!