Use this tutorial on how to make a homemade dish towel with kids art to help kids make homemade gifts for loved ones.
Everyone has a drawer full of dish towels in their kitchen, right? Some are for scrubbing, some for polishing, and some are just for pretty. Mom, grandma,  teachers, friends, or aunts would love to receive a Kids Homemade Dish Towel or two to adorn their kitchen. They are easy, fun, and inexpensive to make so enjoy making a big batch with your child, they will just need someone to take over and do the iron part.
Kid-Decorated Dish Towels
Supplies Needed:
Good quality crayons

Rough sandpaper 80 or lower

An iron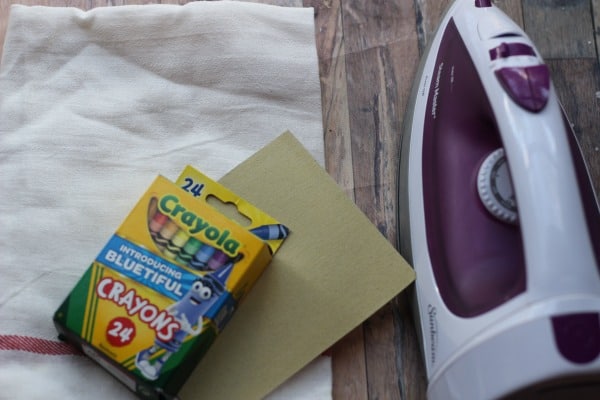 Directions:
Have your child draw a picture with crayons on sandpaper, be sure to have them press firmly and get a thick layer of crayon on their drawings. If you are going to write words you will need to pencil them in backwards and have your child trace over them because when you press it on the towel it will be reversed. Obviously mom works either way.
Heat your iron on cotton setting, no steam. Flip your sandpaper drawing over and have them place it where they would like it on the towel, press firmly with the iron and move it around to be sure you are getting all the drawing. I press mine for 30-60 seconds, moving slowly.

Carefully peel back the sandpaper and check, if it needs a little more time put it back in place. If some of the crayon just won't transfer you can have your child fill in their drawing right on the hot towel as the crayon will soften enough to create a smooth writing tool.

Place your towel in the dryer for 30 minutes to heat set their drawing, place it in a pillowcase if you are concerned about leaving some color in the dryer.




Press out any wrinkles in your towel and add a cookbook, a whisk, or other kitchen gadgets to round out your gift. It may not turn out perfect but it will be made with a lot of love in the imperfections.
More Homemade Christmas Gifts Kids Can Make