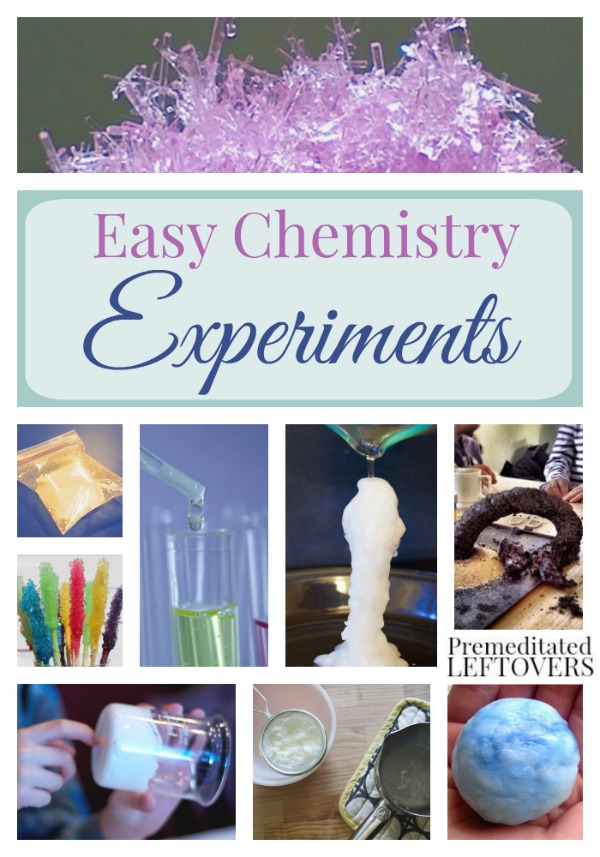 When most people think about chemistry they don't think kids mix well with that, but chemistry is not all about dangerous chemicals being put into a beaker to see what explodes. It can simply be exploring acids, bases, and how things react in mild ways. Chemistry is a lot of fun for kids because they get to see things happen right in front of their eyes! Some of the toys they play with, such as slime or doughs can be chemistry! If you ware looking for some fun kid-friendly science experiments, look no further than this list of Easy Chemistry Experiments for Kids.
Easy Chemistry Experiments for Kids
Education Possible has a neat Chemistry Experiment for Middle Schoolers along with explaining the scientific method to them.
Cause a chemical reaction with borax and glue and make your own homemade bouncy balls.
This Hot Ice Science Experiment from Playdough to Plato is so exciting for kids of all ages to watch. You only need a few supplies that you have at home for it, too! They will think it's magic, but you will explain it's science.
Make Homemade Slime with these recipes from About.com. There are glow in the dark varieties, magnetic types, and even an edible slime.
Older kids will love this Soda Snake Firework from An Ordinary Life. You can do it with simple things you have at home, but make sure you are supervising it as it works with fire.
Do this Red Cabbage Litmus Test to show the differences between bases and acids with older kids. This one is also from An Ordinary Life.
Chemistry in a Bag from The Applicious Teacher is a great way to show chemistry in a safer manner to younger scientists.
This video, from Really, Are You Serious? is about kids and acids and bases and it's a great way to introduce chemistry.
Lemon Lime Adventures has a fun activity that is Experimenting with Viscosity for kids. In the end, you have cloud dough.
I love this Candy Chromatography Experiment from Playdough to Plato. She says it is for ages 3 to 6, but I can see it being used in slightly older kids with some good discussion, too.
Kids probably don't realize that cheese-making employs chemistry, but with this Curds and Whey Science Experiment from Tinkerlab they will!
About.com has a super easy and quick way to grow Epsom Salt Needles in your fridge in about an hour.
Since the Epsom salt needles are not edible, you may enjoy making simple rock candy with your kids instead. Here are some instructions on how to make rock candy from Paging Fun Mums.
More Science Educational Resources for Kids
7 Ways to Use Apples to Teach Science
How to Teach Kids Science Skills in the Garden