You can save money by skipping fast food and making these easy lunches for your workday.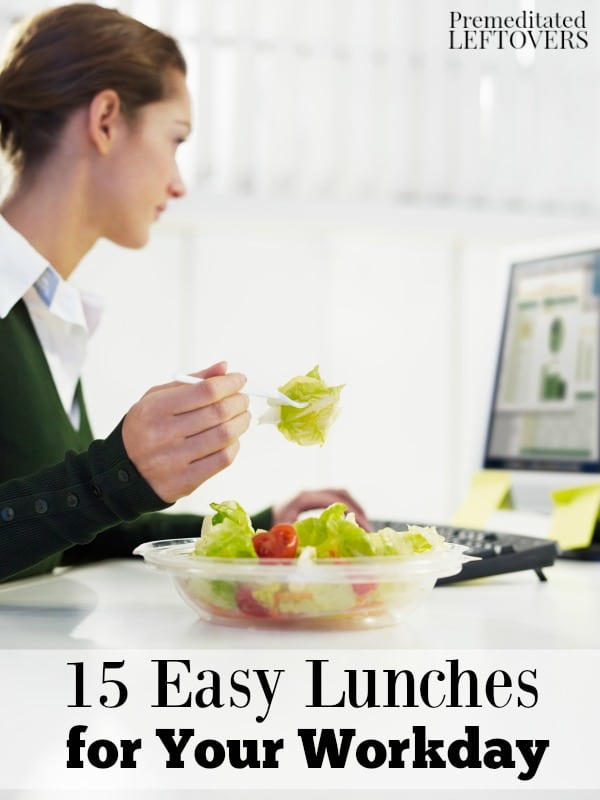 Eating out is so easy to do when you are in a rush and it's even easier to think to yourself that the small amounts you are spending are not that much, either. The problem is even spending $5 a day on lunch is around 100 dollars a month if you do it 5 days a week! If you spend $10 on lunch, it's double. These small amounts can really put a dent in our budgets and making packed lunches at home costs a very small fraction of that. Here are some tips for packing work lunches as well as 15 easy lunches for your workday.
Tips for Packing Work Lunches
Use up leftovers– One of the easiest ways to pack a lunch for work and save money is to use leftovers from the night before. You don't even have to eat them in the same fashion they were in, either. For instance, if you have leftover hamburgers, crumble one up for a taco salad. Use leftover meatloaf for a sandwich. If you had spaghetti the night before, why not make a quick salad with the noodles and eat it cold for lunch the next day?
Keep things super simple – Lunch is often one of those meals that we don't need to make a big production of. You could simply pack a piece of fruit and some cheese and crackers. You don't need it to be a full 3-course meal. A meal like this could cost you less than a dollar a day.
Do batch cooking for your lunches – I work at home, but I still find it helpful to plan and pack lunches so I have something quick to grab. I bought some bento boxes and I will pack my lunch in them for the week when I do my weekly batch cooking. It makes it so easy to just grab one and get back to work or head out the door and eliminates the temptation to eat out.
15 Easy Lunches for Your Workday
These Ratatouille Chicken Bowls can be packed in a sealable container or a mason jar.
Instead of eating Asian Salad as takeout, make this Asian Chicken Salad at home and take it with you.
This Easy Chicken Parmesan Wrap from Two Healthy Kitchens is a great use of leftover chicken.
Check out these Make Ahead Taco Salads in a jar from Pocket Change Gourmet.
Grilled Tomato Balsamic Pizzettes from My Recipes are perfect for an upgrade from boring pizza takeout.
These Homemade Instant Noodles from The Edgy Veg are an adult upgrade to those salt-laden noodle cups.
Chicken Fajita Lunch Bowls can be made ahead of time. These are from Sweet Peas and Saffron.
Lil' Luna has an easy Chicken Caesar Wrap that is basically a sandwich and a salad in one.
Asparagus and Pasta Salad is an easy make-ahead lunch option.
Make these Skinny Bang Bang Shrimp with Zucchini Noodles lunches from Kirbie's Cravings for something different and diet friendly.
BBQ Chicken and Roasted Sweet Potato Bowls from The Creative Bite are filling and hearty.
For something super easy, make these Turkey and Veggie Snack Wraps from Delightful E Made. They only take 5 minutes to make!
Sweet Peas and Saffron has another easy lunch meal prep recipe. These Chicken Pesto Pitas look delicious.
I'm a kid at heart and love these Lunch Box Kabobs from Its' a Keeper.
Make this Chicken Quinoa Salad ahead of time and enjoy it throughout the week.
If you are meat-free or simply prefer a meat-free option, these Vegan Hummus Wraps from Ahead of Thyme are perfect for your brown bag.
More Money Saving Tips:
7 Ways to Save Money on Packed Lunches