Do you need recipe ideas to use up your leftover roast beef? Below you will find many ideas for using leftover roast or prime rib in traditional recipes as well as leftover roast beef recipes.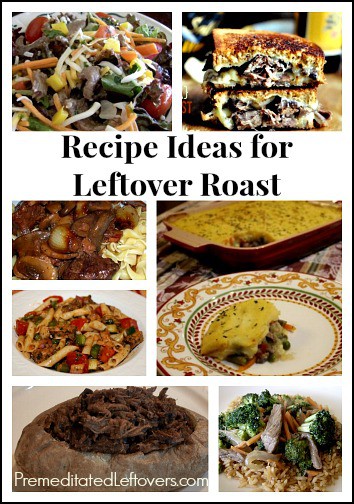 I usually make a standing rib roast on Christmas Day. It is a such a flavorful cut, but it is almost impossible to find a roast smaller than 6 pounds, so we always end up with leftovers. When money is tight I make a cross rib roast which is less expensive and slightly smaller but is still a 4 – 5-pound roast.
It may be tempting to buy a boneless roast, but I recommend against it. I find bone-in roasts to be more flavorful and the bones from the roast can be used to make broth or add flavor to beans and soups. If you don't have time to use the bones within a few days of serving the roast, place them in the freezer to use at a later time.
Cooked roast beef freezes well. I can stretch the leftovers over several weeks, by freezing the roast in usable portions and then thawing it as needed. You can find more information about storing and using leftovers here.
Recipes to Use Up Leftover Roast Beef:
Hoppin' John – uses both the leftover roast and the bones from your roast.
Shepherd's Pie is usually made with ground beef, but is delicious when made with leftover roast!
Beef Stew Casserole – Add the leftover roast to step three, instead of step two.
Barbecue Beef Stuffed Potatoes – Shred the leftover roast and add barbecue sauce to make barbecued beef.
Beef Stew with Cabbage – Add leftover roast to Step two instead of step one.
Easy Broccoli and Beef – Leftover roast works well in a stir-fry (add leftover roast to the second step instead of first).
Boeuf Bourguignon – made using leftover beef roast.
Beef Barley Soup – A hearty soup using leftover roast or prime rib.
Roast Beef Dip Sandwiches – made with leftover roast beef.
Pot Roast and Cheddar Grilled Sandwiches – take grilled cheese to a whole new level!
Pulled Roast Beef Tacos are a delicious way to create a completely different meal with your leftover roast beef.
Recipes Using Roast from Prep-Ahead Meals from Scratch:
If you have my cookbook, Prep-Ahead Meals from Scratch, you can use the leftover roast in these recipes from the cookbook:
Philly Cheesesteak Quesadillas page 88
Fajita Frittata page 91
Asian Beef and Broccoli Slaw Wraps page 95

French Dip Pizza on page 96

Cottage Pie with Cornbread Crust page 99

Swiss Steak Stew page 101

Skillet Beef Burgandy page 103
Use Leftover Roast in Place of Steak in these Recipes:
Fiesta Steak and Pasta Salad works just as well with leftover roast as it does with steak.
Southwest Steak Salad with Honey Lime Dressing is great with leftover roast.
Steak and Asparagus Frittata can just as easily be made with leftover roast.
Spicy Steak and Artichoke Sandwich – slice the roast thin to use on this sandwich.
Steak and Asparagus Breakfast Wraps – A delicious and portable breakfast.
More ideas for using leftover roast in recipes:
Use the bones from your roast to make beef broth in a slow cooker or add flavor to beans when cooking them.
Leftover roast makes a flavorful addition to Quesadillas.
I replace the hamburger in Taco Salad with leftover roast. I saute the onions in a little oil and then add 2 cups bite size pieces of roast at the same time I add the beans.
I make tacos by adapting Tegan's Taco Recipes. I cut up 2 cups bite-size pieces of roast, add 1 1/2 – 2 cups diced tomatoes and 1 -2 tablespoons of taco seasoning and cook it over a medium heat until it is heated through.
More Recipes Using Leftovers:
How do you use up leftover roast beef?