Last week, I decided to serve sandwiches and salad for dinner instead of heating up the kitchen by cooking a meal. As I was making my menu plans, I asked my husband to describe his favorite sandwich and he basically described a Philly Steak Sandwich. I asked him if we would mind if I played with the recipe a bit to add some extra flavor to the sandwich. I didn't get any further than mentioning grilled artichoke hearts before he was agreeing to my plans to make "The Biggest Little Steak Sandwich".
How to Make a Spicy Steak and Artichoke Sandwich
To make my steak sandwich extra flavorful, I start by spreading Mezzetta Sun-Dried Tomato & Basil Everything Spread on the rolls. This spread is very flavorful, so a little goes a long way.
I added Mezzetta Deli-Sliced Jalapeno Peppers (they have both tame and hot, so my family can choose exactly how spicy they want their sandwich) and Mezzetta Grilled Artichoke Hearts to one slice of bread.
Finally I add thinly sliced steak, roast beef, or in this case, leftover prime rib. I top the meat with Swiss cheese. At this point there is an important decision that must be made: To melt? or not to melt? It's a tough call, but I prefer melted cheese, so I put the sandwich either under the broiler or in the microwave until the cheese is just melted.
Add lettuce and tomatoes, top with the other slice of bread. Slice and enjoy your Spicy Steak and Artichoke Sandwich!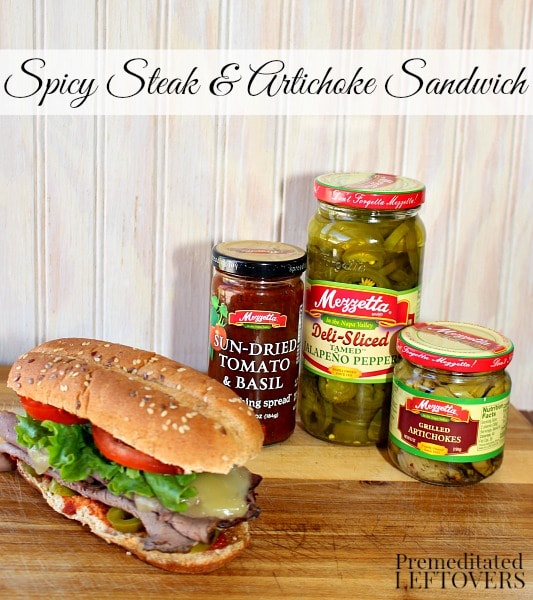 Spicy Steak and Artichoke Sandwich Recipe
Prep Time: 10 minutes
Cooking Time: 1 -2 minutes (if you choose to melt the cheese)
Serves: 4
Ingredients:
4 deli rolls
12 – 16 ounces thinly sliced beef, cooked
4 – 8 slices Swiss cheese
Mezzetta Tomato & Basil Everything Spread
Mezzetta Roasted Artichoke Hearts
Mezzetta Deli-Sliced Jalapenos
leafy lettuce, torn
1 – 2 medium tomatoes, thinly sliced
Directions:
1. Slice the deli rolls in half. Spread a thin layer of Mezzetta Tomato & Basil Everything Spread on each side.
2. top with Mezzetta Deli-Sliced Jalapenos​ and Mezzetta Roasted Artichoke Hearts.
3. Add several slices of thinly sliced steak or roast beef. Top with slices of Swiss cheese.
4. (Optional) Place the sandwich under a broiler or in a microwave for approximately one minute to melt the cheese.
5. Top with lettuce and tomato slices. Place the other slice of bread on top and enjoy!
This is a sponsored conversation written by me on behalf of Mezzetta. The opinions and text are all mine.