I have been seeing Chipotle seasoned items everywhere. Maybe it is because I have had chipotle peppers on my brain, but at the store today I saw Chipotle flavored rice mix, Chipotle diced tomatoes, and  Chiptole spiced beans. Instead of buying any of those things, I made a mental note to add my Chipotle Seasoning Mix to rice, tomatoes, and beans. Maybe individually or perhaps all together because they would make a great combination.
What is a chipotle pepper? It is a smoked, dried jalapeno pepper. So it not only adds heat, it adds a smoky flavor. In a pinch, you can combine fresh jalapeno peppers and smoked paprika to a dish to approximate the heat and smoky flavor. You can buy dried chipotle peppers or ground chipotle peppers. They are also commonly found canned in an adobe sauce. I like to purchase the ground chipotle chile pepper and then use it to create a seasoning mix to use in recipes. I often flesh the recipes out by adding fresh peppers from my garden.
I also save money making this Chipotle seasoning mix by grinding coriander from homegrown cilantro seeds and make my own seasoned salt.
Ingredients
1 tablespoon ground chipotle chile pepper
1 tablespoon garlic powder
1 tablespoon onion powder
1 tablespoon ground coriander
2 teaspoons paprika (smoked paprika if available)
1 teaspoon black pepper
1 teaspoon cumin
1 teaspoon oregano (Mexican Oregano if available)
1/2 teaspoon seasoned salt
1/2 teaspoon cayenne pepper
Directions
Grind coriander, if necessary.
Add the other spices to ground coriander and mix thoroughly.
Store in air tight container and use as called for in recipes.
Notes
This can be used as a rub or to season dishes.
http://premeditatedleftovers.com/recipes-cooking-tips/how-to-make-chipotle-seaoning-mix/
Copyright © 2014 Premeditated Leftovers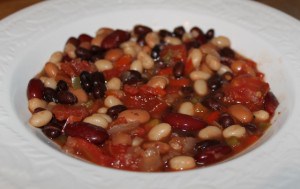 I used this Chipotle Seasoning Mix in my 4 Bean Chipotle Chili.
Related Posts:
How to Make Taco Seasoning Mix
How to Make Italian Seasoning
How to Make Pumpkin Pie Spice
How to Make Poultry Seasoning
This post is linked Kitchen Tip Thursday.