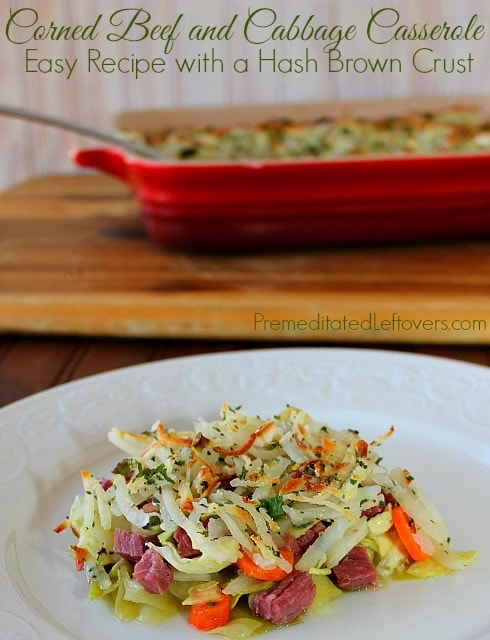 It doesn't matter how many potatoes or how much cabbage I use when I make Corned Beef and Cabbage, consumption rises to meet supply. However, even though my family loves corned beef brisket, we always have some leftovers. I think it is because we have trained ourselves to limit our meat consumption to about 4 ounces at dinner, but feel completely comfortable loading up our plate with veggies.
So I buy 2 heads of cabbage for every corned beef brisket that I buy. I use the first one for our traditional Corned Beef and Cabbage dinner and then I use the second one to create a delicious dish using the leftover corned beef. Cabbage has been on sale around here for $0.29 a pound, so it also makes for some really frugal dinners.
My family of 5 made this casserole disappear in less than a day! We had it for dinner and then finished it off for supper. I will be picking up extra corned beef while it is on sale and putting it in the freezer so that we can enjoy corned beef and cabbage over the next 4 – 6 months instead of just serving it on St. Patrick's Day.

Corned Beef and Cabbage Casserole with a Hash Brown Crust
Ingredients
½ head cabbage, shredded
2 cups cooked corn beef, cut into bit size pieces
2 carrots, thinly sliced
2 green onions, thinly sliced
1 cup leftover drippings from the corned beef
1 tablespoon corn starch
3 cups shredded hash browns
1 teaspoon garlic powder
1 teaspoon onion powder
1 tablespoon parsley
⅛ teaspoon pepper
Directions
Preheat oven to 350 degrees.
Place the shredded cabbage in a casserole dish. Add corned beef, carrots, and onions.
Combine corned beef dripping and corn starch in a small sauce pan and whisk them together.
Cook over a medium flame until it reaches a boil. Continue boiling, while stirring until the gravy thickens, approximately 2 – 3 minutes.
Pour the gravy over the corned beef and vegetables.
In a medium bowl, combine hash browns and spices. Stir to thoroughly coat hash browns with spices.
Spoon the hash browns over the top of the corned beef and vegetables. Top with a few extra sliced onions.
Bake at 350 degrees for 30 minutes or until hash browns begin to brown.
More Recipe Ideas for Leftover Corned Beef:
Corned Beef and Cabbage Casserole
Corned Beef and Cabbage Casserole with a Mashed Potato Crust