Your coffee habit doesn't have to be expensive! Here are some tips on how to save money on coffee.
I love my morning cup of coffee. I don't love how expensive it can be to pick up a cup at a drive-through, so I make it at home. While making coffee at home is a lot less expensive than coffeehouse coffee, there are even more ways to lower the cost.
How to Save Money on Coffee
Save money on coffee by making coffee at home.
I program my coffee maker the night before, so I wake up to a pot of fresh coffee. You don't need an expensive coffee maker, I use a Mr. Coffee 12-Cup Programmable Coffeemaker
, which I picked up for under $30.00.
Comparison shop.
Check sales flyers or use the Favado App to find sales on coffee in your local stores. Compare prices at your local grocery stores and the warehouse stores to see who has the best price on the type of coffee you prefer. Start taking notes of everyday prices while you are shopping. I keep track of the everyday prices in my price book, which helps me determine if a sale price is a "stock up price".
Skip eye-level products.
At the store look up and down the shelves for the best price. More often than not, the most expensive coffee is at eye-level. You can shave a couple dollars off your purchase price by looking at the coffee that is placed on a higher shelf or is at knee-level instead of eye-level.
Use coupons.
You can find great coupons for coffee. Here are printable coupons, search under beverages for coffee coupons. And don't forget, you can print most coupons twice! Check Ibotta and Checkout 51 for cashback offers on coffee. And finally, check your local store's website or app for coupons.
Buy coffee beans in bulk.
Many stores have a bulk section to buy coffee beans. They will let you fill a bag of coffee beans and this is often cheaper than buying pre-packaged coffee, plus you can make your own unique blend. Most stores also have a coffee grinder, so you can grind your beans there if you do not have your own coffee grinder.
Stock up.
When you do find a great deal on coffee, stock up! You can use your freezer to store your coffee. Edited to add: If you put coffee in the freezer, put it in once and after you remove it, do not put it back in. Temperature changes are not good for coffee.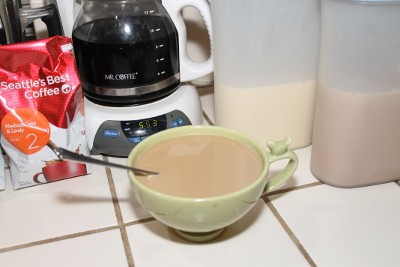 Make Your Own Flavored Creamer
Save even more money on coffee by making homemade flavored creamers. Do you like flavored creamers in your coffee? I know I do. They turn my daily coffee into a treat! Instead of popping into a coffee shop, consider making homemade creamer and taking your coffee with you in a reusable stainless steel coffee mug
.
Hazelnut Coffee Creamer Recipe
Caramel Macchiato Creamer Recipe
Mocha Peppermint Creamer Recipe
If you have to grab a cup of coffee while you are out, here are ways to save on coffeehouse coffee.
How do you save money on coffee?
Ways to Extend Your Coffee
12 Ways to Use Leftover Coffee