I made this Easy Homemade Hazelnut Coffee Creamer recipe as part of a shop that has been compensated by Collective Bias, Inc. and its advertiser. All opinions and the recipe are mine alone. #Keurig400 #CollectiveBias
Every hostess has their weaknesses and their strengths. My weakness is that my game plan usually falls apart somewhere between dinner and dessert and coffee. I make dessert ahead of time and I even have the coffee prepped, but I get lost in conversation during dinner and forget to actually make the coffee. Every.single.time. Fortunately, I have awesome friends who remind me when I forget to make the coffee and don't mind pitching in to help get me back on track. I have forgotten to make the coffee so many times that one of the first things I say to my friends Marc and Colleen when they walk in the door is, "Remind me to make the coffee!"
I was thrilled to receive a Keurig 2.0! The new Keurig 2.0 has the ability to brew both a single cup and a four-cup carafe of coffee. It will allow my husband and I to make a pot of coffee to share while still allowing my kids to make an individual cup of tea or hot cocoa.
Confession: I am really excited about the fact that I can now set up a coffee bar and put my friends in charge of making their own coffee and tea at dinner parties. Remembering to make the coffee is no longer my responsibility when entertaining! Ha!
The Keurig should make our daily routines a little bit more lively. I have been in the habit of just buying one large package of medium roast coffee. I wanted to explore more flavors, but I was concerned about keeping multiple varieties of coffee fresh. Now we can experiment with different flavors of K-Cup Packs and K-Carafe Packs without worrying about them going stale. Keurig offers 400 beverage varieties from 60 brands, so I am going to have fun trying to find a favorite.
I asked my daughter, who is on break from college, what coffee she wanted to try first and without hesitation she said Hazelnut. I decided to make Homemade Hazelnut Coffee Creamer to go with her coffee. Since I had never had hazelnut creamer before, my daughter served as my taste tester and let me know when it was perfect. My husband and I decided we needed to give Hazelnut Creamer a try to see what all the hoopla was about and discovered a new favorite creamer!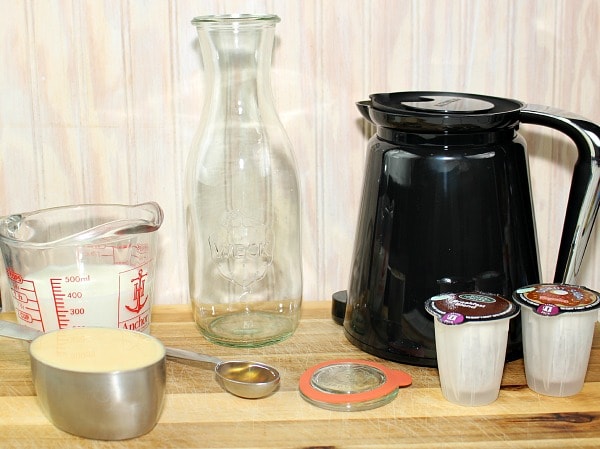 This homemade hazelnut coffee creamer recipe is really easy to make. You just need a can of condensed milk, 2 1/2 cups of milk, and hazelnut extract.

Homemade Hazelnut Coffee Creamer
Recipe type:
Coffee Creamer
Ingredients
14 ounces condensed milk
2½ cups milk
1 tablespoon Hazelnut Extract
Directions
Pour the can of condensed milk into a pitcher.
Add the milk to the pitcher and stir well or place a lid on the container and shake well.
Add hazelnut extract to taste. Stir well.
Keep refrigerated.
Coffee Creamer Variations:
French Vanilla Creamer:
To make French Vanilla Coffee Creamer, substitute vanilla extract for the hazelnut extract.
Vanilla Caramel Coffee Creamer:
To make Vanilla Caramel Coffee Creamer, leave out the hazelnut extract and add 1/4 cup caramel sauce and 2 teaspoons vanilla.
Peppermint Mocha Coffee Creamer:
To make Peppermint Mocha Coffee Creamer, leave out the hazelnut extract and add 4 tablespoons chocolate syrup and 1 teaspoon peppermint extract.
To learn more about Keurig, follow Keurig on Twitter and Facebook.