Here are 101 ways to save a dollar a day. Check out the list and see if you can use some of these ideas each day to start saving money.

Do you think it is impossible to save money? Perhaps no matter how hard you try, you feel like you can just never get ahead. Well saving money does not always mean stashing away twenty or fifty dollars at a time.
Most of the time, the best financial safety nets are built just one dollar at a time. There are hundreds of ways to save a buck and over time, those dollars can really add up. Still not convinced? Below, you will find 101 ways to save $1.00 a day. In many cases, these tips and tricks will save you much more than $1.00 a day. But in each case, if you can save a dollar a day you can easily save $30 a month, or $360 a year. Now that is some easy and significant savings!
101 Ways to Save a Dollar a Day
If you are ready to start setting some money aside for a rainy day, take a look below at 101 ways to save a dollar a day. You may just be inspired to start today.
1. Find a free RedBox rental code online and rent a flick for free.
2. Bring your own soda to work and skip the vending machine.
3. Pour some homemade coffee in a thermos and skip the drive thru tall latte.
4. Pack your lunch instead of eating out.
5. Make a point to redeem at least one $1.00 off coupon per day.
6. Make your own greeting card instead of buying one.
7. Spend a few minutes calling your insurance company requesting a new quote.
8. Shop the manager mark downs at your local grocer. Substitute as many items in on your list that you can with mark down items.
9. Skip the retail store and make a purchase from your local thrift store instead.
10. Re-gift an item you have not opened yet but is still in great shape.
11. Spend a few minutes calling your credit card companies to get your interest rates lowered.
12. Replace one beverage a day with water.
13. Try fixing something yourself instead of hiring help. Watch a youtube.com video if you need some help.
14. Barter with a friend for services instead of paying cash.
15. Replace one household cleaner with a simple yet effective vinegar and water mixture.
16. Hit up a matinee flick instead of an evening flick.
17. Replace one of your regular grocery items with generic.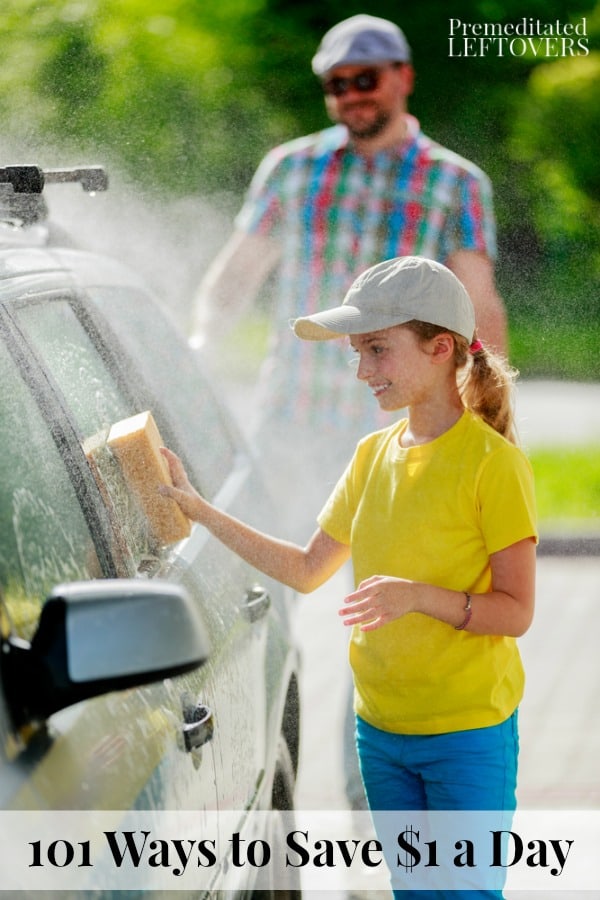 18. Wash your car yourself instead of taking it through a car wash.
19. Skip the dry cleaners and get out your iron to do the job.
20. Hit golf balls at a local park for free instead of the driving range.
21. Omit running errands one day a week to save on gas.
22. Find a free book download on Amazon instead of paying for one.
23. Buy printer ink refills instead of buying new ones.
24. Carpool one day a week to save even more on gas.
25. Use generic shampoo instead of your salon brand shampoo one day a week.
26. Enjoy a meatless dinner one day a week.
27. Spend a few minutes calling your cable company to renegotiate your bill.
28. Learn to groom your own dog. A youtube.com video can help you with this.
29. Use cash instead of a credit card and you are already saving by not having to pay interest.
30. Take one survey a day on sites such as Swagbucks to earn gift cards you can use on future retail store purchases, thus saving you the money you would normally spend out of pocket.
31. Buy some of your most commonly used household items in bulk.
32. Trade clothing with a friend to expand your wardrobe.
33. Cook something from scratch.
34. Play a board game instead of going out for the evening.
35. Dry your own fruit and veggies with a dehydrator and avoid pricey grocery store snacks.
36. Start your own window herb garden and avoid costly grocery store herbs.
37. Do your own manicure instead of heading to the salon.
38. Use a self-tanner instead of buying a tanning bed package.
39. Rent a carpet cleaning machine instead of paying a crew to do it.
40. Hang one load of clothing a week outdoors to dry instead of running it through the dryer.
41. Turn off the water while brushing your teeth.
42. Use leftovers from the previous night's dinner to create a new meal.
43. Fill out and send in the rebate off of a recent purchase.
44. Call your favorite food company and request any coupons that might be available.
45. Whiten your own teeth with white strips instead of getting them done in the dental office.
46. Buy wrapping paper and gift bags from your local dollar store instead of a retail store.
47. Discontinue one magazine subscription and check it out from the library instead.
48. Trade babysitting services with a friend or neighbor.
49. Learn a new hobby via youtube.com or Craftsy.com
50. Check your receipts for accurate calculations before tossing. Correct any errors at once.
51. Request medication samples from your doctor before having your prescription filled.
52. Buy pet treats at your local dollar store instead of a retail store.
53. Make your own face masks using natural ingredients like papaya, avocado, and yogurt.
54. Get a library book about massage therapy. Learn together with your partner and exchange services.
55. Request free samples from your favorite makeup counters.
56. Grocery shop without your children.
57. Grocery shop on a full stomach!
58. Plan your dinner menus a week ahead of time.
59. Shop with a list and stick to it.
60. Avoid convenience stores. You will pay extra for that convenience.
61. Bank at an institution with minimal fees.
62. Walk or ride a bike to one errand a week, if possible.
63. Turn all lights and electrical devices off one night per week starting at a certain time.
64. Enjoy a soup and sandwich meal one night a week.
66. Spend a few minutes a day printing out internet coupons.
67. Spend a few minutes a day requesting samples at manufacturer's websites.
68. Use reusable towels and napkins instead of buying disposable ones.
69. Same goes for plates and utensils, use real ones and avoid buying disposable ones.
70. Drink flavored drink mixes instead of bottled drinks.
71. Replace trash bags with the plastic shopping bags you get for free.
72. Pay bills on time to avoid any penalty charges.
73. Set your thermostat a few degrees higher/lower depending on the weather.
74. Keep the television off one day per week.
75. Turn down the temperature on your hot water heater.
76. Rent toys for free at your local library.
77. Print out coloring pages for free at sites like pbskids.org and abcteach.com
78. Don't patronize an ATM that charges you a fee.
79. Drive the speed limit. It saves gas and you avoid tickets.
80. Skip the gym and go for a jog instead.
81. Ask a friend to save their coupon inserts for you.
82. Skip the fancy beverages and appetizers at the restaurant.
83. Wash your clothing on a cold water cycle.
84. Use energy-efficient light bulbs.
85. Experiment with pasta, rice, beans, and other inexpensive staples.
86. Use your web feature on your phone to find a number instead of dialing information.
87. Price match your groceries before checking out.
88. Scan your groceries for stuck-on promotional coupons before checking out.
89. Don't discard a box or package before checking to see if any coupons are printed on it.
90. Save coupons, Groupons, and other promotions to your cell phone instead of using printer paper to print them out.
91. Replace your furnace filter every few months.
92. Only run your dishwasher when full.
93. Raise the deductible on your homeowners and car insurance.
94. Check your faucets for drips and leaks.
95. Buy clothing during the off-season on clearance and save until it is needed.
96. Properly inflate your tires to get the best gas mileage possible.
97. Offer a service to a friend in place of a gift.
98. Turn off the air and open the windows. If you open your windows early in the morning or even the night before you can cool your home without the air-conditioner. Just be sure to close the windows before it begins to heat up.
99. Patronize eateries where kids eat free or B1G1Free options are offered.
100. Try decorating your home simply by swapping around items from various rooms.
101. Get plenty of sleep and avoid stress. A healthy body means fewer doctor's visits, which means more money in your pocket.
There you have it! 101 easy ways to save a dollar a day or more. Give these tips a try and see how easy it is to start saving. Before you know it, you too can build a financial safety net that you can feel secure about and proud of. Good luck!