These tips for buying in bulk will help you make the most of your grocery budget.

One thing you will see when searching for ways to save money is the tip, "Buy things in bulk." If you are like me and don't have a lot of money or space, this may seem like an impossible thing to do and maybe a bit too much. You may have a small family and see no need for it.
I can tell you that there are several things to keep in mind when buying in bulk that may make you see it differently. In this post, I am going to show you what to do and what not to do when buying in bulk and tell you things you should defiantly consider buying.
What to Do When Buying in Bulk:
Compare unit prices before deciding to buy in bulk. What may seem like a great deal may not be when you compare the cost per item in the bulk purchase. Let's say you are going to buy yogurt. At the store, each unit is 40 cents. When you go to buy a bulk box of 20, the price is $10.00. This may seem like an awesome deal until you examine it by the unit price. At $10.00 for 20, the price jumps to 50 cents each. You would not be getting a good deal here and could be paying for the convenience of buying it all at once.
Know the prices of the items you buy in the store when on sale. If it is an item you can stock up on during a sale and it will hold just fine, wait for the sale to stock up. You can use a price book to track prices which will help you know when an item is at a "rock bottom, stock up" price.
Make storage areas for your bulk items. I have a small cabinet in my bedroom that I store my bulk buys in because I have very little space. You may have more space and there are a ton of ways to organize a bulk section in your home. Try using bins, shelves, and closets.
You can use coupons most of the time for bulk buys. Maximize your savings by doing so.
Buy only in bulk when you can save 10% or more and you use the item a lot. Lots of bulk items in storage that are not getting used mean they are taking up space for items that would get more use.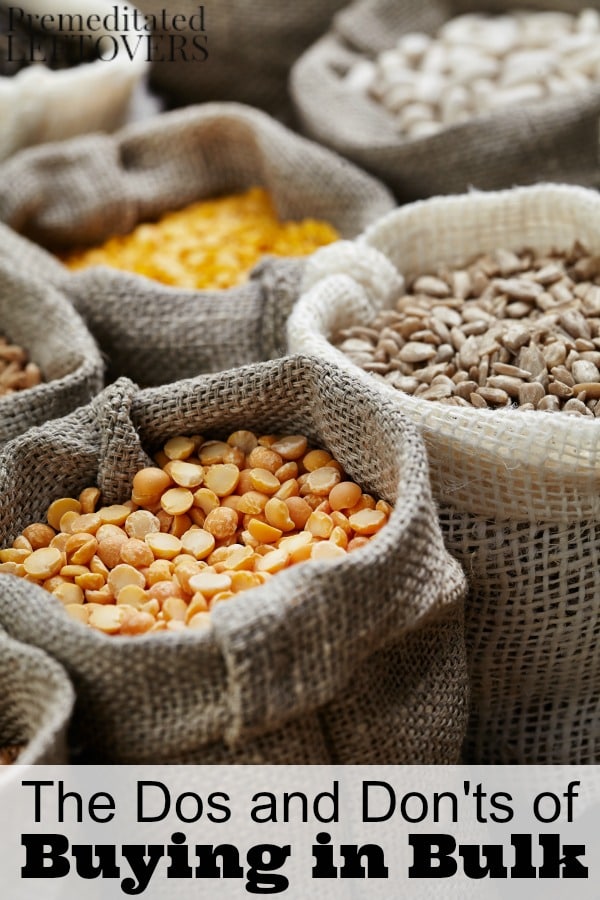 What to Avoid When Buying in Bulk:

Don't buy a product, no matter how good of a buy it is, if you will not use it up in time. Nothing is a good deal if you waste it.
Don't think you need to buy it all at once. You can start a bulk storage by just buying a few well-used items a month. You don't have to go all out.
Don't buy everything in bulk. Some things are just not that great of a deal and you could save more waiting for a coupon for the item.
What to Buy in Bulk:
Spices: I save so much buying them in bulk. Here, I can get a HUGE bag of dried chives for less than $1.00. This same amount would cost me over $10.00 if I bought it in tiny jars at the grocery store. Sesame seeds are also much less when bought in bulk instead of on the spice aisle.
White rice: Skip the small bags and go for the big guys with this one. You can buy it in a large bag or directly from the bulk bins.
Nuts: Often these are a way better deal than buying in small containers. Be careful to only buy what you can reasonably use though in 1-2 months or store the nuts in the freezer to prevent them from spoiling.
Condiments: These can be a great bulk deal, but make sure, again to check that you only buy what you need as they can expire in as little as 6 months.
Meats: See a great deal on meat? If you have the freezer space this can be an amazing deal.
Raw Meat:
Ground Beef: 3 months
Whole Chicken: 1 year
Chicken Pieces; 6 months
Steaks: 6 months
Roasts: 4 months
Pork Chops: 6 months
Whole Fish: Around 6 months
Cooked Meat:
Meat that is cooked lasts up to 3 months in the freezer.
Vegetables and Fruits: Buying in season is always smart and you may get screaming deals on these. If you can't eat it all fresh, why not learn to can and save yourself some cash? Another great way to use up bulk buys on produce is to freeze the berries and some of the other fruits and use it in baking or to make smoothies later. Just don't freeze anything with high water content such as lettuce or citrus fruits.
Paper Products: Buying paper products such as toilet paper or paper towels can save you almost 50% in a lot of cases. The only problem is finding room to store.
Remember, buying in bulk is an amazing way to save money, but always compare prices and ask yourself if you can reasonably use what you are buying before it goes bad.

More Ways to Cut Your Grocery Bill: