Get your vegetable garden off to a good start with these tips for a successful spring garden.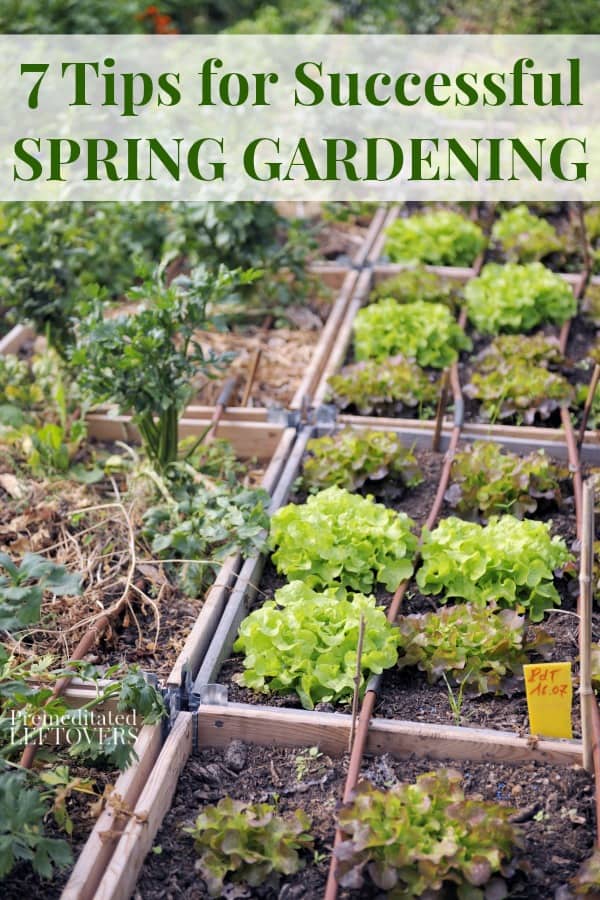 Have you been disappointed with your garden in the past? There are a number of factors that can hurt your spring garden. Use the tips below to ensure you start you get your garden off to a good start.
7 Tips for Successful Spring Gardening
1. Start with good soil– Check the ph level of your intended garden area. You can pick up testing kits at home and garden stores or take a sample to your local extension office for testing. Mix in the appropriate ingredient to get it where it should be. Here are tips for prepping soil for a vegetable garden.
2. Fertilize – Fertilizers, fish emulsions, or other soil amendments should be added regularly to feed your plants and vegetables for maximum growth and production. Every living thing needs the right food to keep it in top shape. Here are the top 10 organic fertilizers.
3. Weed regularly– Don't give the weeds a chance to overtake your garden. Weed daily or at least every couple days to keep ahead of it. Weeds can choke out your tender, new plants and produce scraggly under grown specimens.
4.Compost-While I do sometimes buy organic soil to mix into my garden and containers I believe that nothing beats composted soil, and it's free! You can go out and buy a fancy compost container or put together your own. I also recommend buying a compost jar to leave on your counter to gather household scraps like eggshells, potato peelings, and other kitchen scraps. Here are tips for getting started composting.
5.Know Your Zone– This is super important if you want a successful garden. While you may desperately want to plant items like tomatoes in March they may just not fare as well where you are until later in the season. Find out your zone first and be sure what you are planning to grow does well in your area and when it is recommended to plant each vegetable in your zone. It is frustrating to pour time and energy into something if it just isn't cut out for your climate. You can find your plant hardiness zone here.
6. Ready seeds and plants– After you have planned out what you want to grow, order seeds, sketch out their layout, and determine which are better started indoors and which do better direct planted. Store unused seeds in a cool, dark space to plant later and extend your growing season. Here are 5 Ways to Start Seeds Indoors. You can start many cold weather vegetables outside a couple weeks before the last frost.
7. Attract Bees and Butterflies– To maximize pollination for flowers and vegetables you will want to attract these helpful creatures to your yard. Include a water feature for them as well as a food source. The other bonus is that they are beautiful to look at.
Ways to Attract Beneficial Insects
More Gardening Tips