Each year I collect seeds from my flowers to plant next spring. Collecting flower seeds helps me save money on my landscaping and it allows me to enjoy my favorite flowers again and again. For the annuals, like marigolds and snapdragons, I will replace the flowers that grew this summer. For the perennials, like hollyhocks, I will use the seeds to expand my garden.
How to Save Your Own Flower Seeds:
Allow your plants to go to seed. If weather permits allow the seeds to dry in the seed pod on the plant.
Collecting Seeds:
Before the seed pod opens, collect the seed pods from the plant. Carefully cut the seed pods from the plant. When you cut the seed pod from the plant, place a paper bag or container beneath the pod to catch any seeds that fall out.
Drying Seeds:
Place the seed pods in a well ventilated container to continue drying if necessary. I usually place my seed pods in a brown paper lunch sack to dry. I staple the bag shut and write the name of the type of seed on the outside of the bag. If the seed pod has some time to go before they are dry, you can cut the stems a bit further down, place them in a brown bag, secure the bag around the stems with a rubber band and then hang the stems upside down to dry. Any seeds that fall out of the pod as they dry will be caught by the bag. You can see this method demonstrated in this article on how to dry herbs in a paper bag.
Preparing the Seeds for Storage:
Once the seeds are dry, remove them from the seed pod. If any bits of the pod get mixed in with the seeds, run the seeds through a colander, sieve, or old window screen to separate the seeds from the plant material. Place a clean bowl or paper beneath the colander to catch the seeds.
Storing Seeds:
You can store dried seeds in an envelope or you can create your own seed packets with these free Printable Flower Seed Packets. Once they are in an envelope or seed packet, store them in a cool, dry location. Whether you use an envelope or a seed packet, be sure to write the type of seed and variety on the outside so you don't forget which seeds you collected.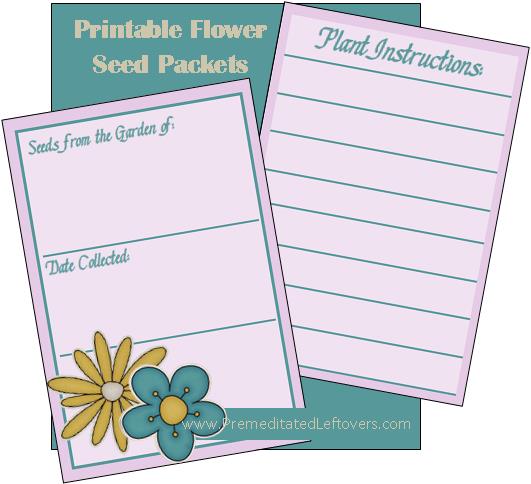 I also collect seeds from my vegetable garden. You can find tips for collecting seeds from your vegetable garden here and a free printable vegetable seed packet.
Do You collect flower seeds from your garden?