These tips on how to grow cherry tomatoes include how to plant cherry tomato seedlings, how to grow cherry tomatoes in pots, and more.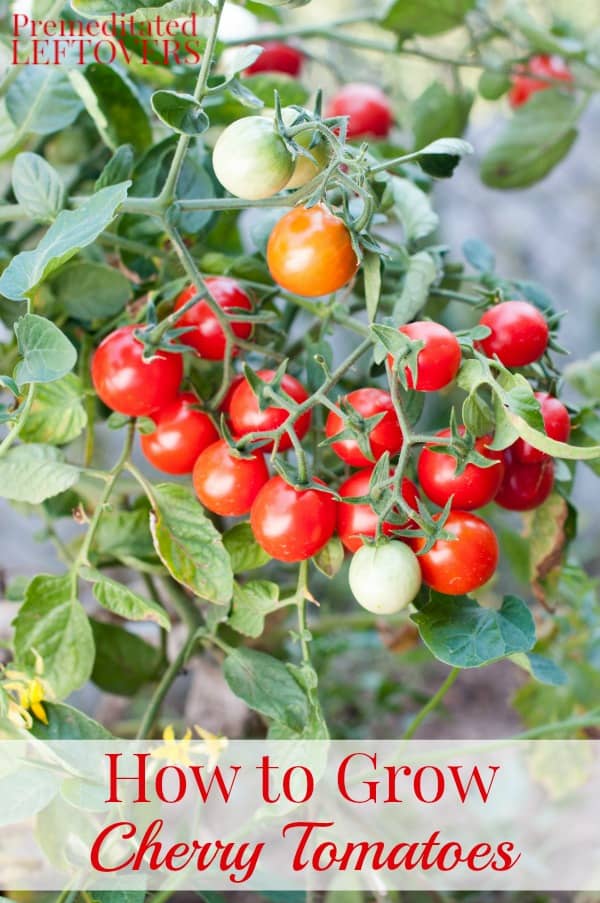 There are so many reasons to grow cherry tomatoes. They are low maintenance, a single plant can produce multiple pounds of fruit, and they are ideal for small and large gardening spaces. Not only are these inexpensive plants to grow, but you can choose from many varieties as well offering you an assortment of flavors and colors. If you are considering growing cherry tomatoes, look at these helpful tips on how to grow cherry tomatoes and reap all the benefits they have to offer.
How to Grow Cherry Tomatoes
How to plant cherry tomatoes from seedlings:
When planting cherry tomatoes, it is wise to plant from seedlings as opposed to seed. They take a long time to mature, so if you have a short growing season or just ready to enjoy cherry tomatoes asap, seedlings are best. Some of the seedlings you can choose from including yellow pear, grape, and even black cherry.
When planting cherry tomato seedlings, you want to dig a hole about 3 inches deep, or at least enough to fully cover the root ball of the plant. Choose a full sun area that gets at least 7-8 hours of full sun per day. This is essential or your tomatoes won't ripen fully.
Choose a nutrient-rich soil that drains well as cherry tomatoes don't like soggy roots. If planting multiple plants, be sure to space them at least a foot to 18 inches apart as cherry tomatoes need lots of room to grow.
Cherry tomato growing tips:
Once your seedlings are in the ground, they will enjoy weekly feedings of plant food. Use a liquid food once a week applied at the base of the plant. When watering your cherry tomato plants, you want to be sure the water also goes in at the base, as water on the leaves can result in rot and burning. A layer of compost and mulch around the base of the plant can help keep the soil cool and keep moisture locked in as well.
Once the plants are about a foot tall, you will need to add some support. A stake or a tomato cage is ideal as they will help support the stems once the fruit starts to come in. Cages also help prevent snapping of the base and can even help keep critters away. Be sure you place the cage on while the plant is still young and pliable.
Pests do like to nibble cherry tomatoes, so you may need to take precautions. If rabbits are an issue, you can use a natural repellent like marigolds around your cherry tomatoes to keep them out. In extreme cases, garden fencing may be ideal. Certain types of garden caterpillars and aphids may also like to munch on your cherry tomato foliage, so a homemade pest spray made from dish soap and water can help.
Keep your tomato plants cool and fed by offering 2 inches of water per week, more when the weather is extremely dry.
Growing cherry tomatoes in pots:
If you are limited on space, cherry tomatoes are perfect for growing in pots. You still want to plant at the same depth and space according to the directions above. One key element is that you use a pot with plenty of drainage holes. Your potted cherry tomatoes will do well if set out on a patio or balcony that gets at least 7 hours of sun per day.
Since pots tend to be smaller, you may not be able to fit a large tomato cage. In this case, a wooden stake and some ties are ideal for offering support.
Cherry tomato troubleshooting:
Should your fruit not turn red/orange/yellow and remain green, chances are the plant is not getting enough sun. If you planted in a container, move the cherry tomato plant to a sunnier location. If you are unable to move plants, you can try picking the produce (leaving some stem and foliage intact) and letting it sit in the sun so it can continue to ripen.
Cherry tomatoes will use their leaves to communicate. Yellowing leaves mean they have had too much water. Brown leaves could mean not enough water. Leaves that are chalky white or spotted may mean a pest issue. Look for evidence of pests in the area and treat accordingly.
When to pick cherry tomatoes:
In most cases, your cherry tomatoes are ready to harvest when they are the size of a large grape. They will also be a bright red, yellow, or orange according to variety. They will be firm to the touch with a slight give. Pick as soon as they are ripe, or the fruit will become mushy and pests and rot might set in. You can pick cherry tomatoes right from the stems, just simply pinch them off. They should be stored in a cool and dry place until ready to use.
Once harvested you can use your cherry tomatoes in so many ways. They are awesome in green salads, pasta salads, and can be used in stews. They are also ideal for canning or using in salsa or sauces.
Try these tips on how to grow cherry tomatoes and see why this is the perfect plant to grow even if you are limited on space. Even the smallest plants will grow an abundance of fruit for you!
More Gardening Tips: